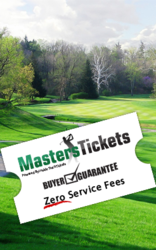 (PRWEB) March 01, 2013
Going to the Masters Tournament is a very special experience. Masters Tickets are one of the most difficult sports tickets to acquire. Attendance to this exclusive event is limited, so tickets are highly desirable. Only a few practice round tickets are generally offered to the public from the course. Augusta National itself does not offer tickets to the weekend match play.
The best bet of getting a ticket to the Masters is through our website, http://www.masterstickets.co, and look at one of our several ticket packages. These deals can include practice round tickets, hotel accommodations and other hospitality, weekend match play tickets, airport transportation, and more.
Up until 2012, Masters tickets to tournament days have not been available from the tournament to the general public since 1972. That year, a waiting list was created, but then shut down in 1978 from so much demand. Another waiting list was then created in 2000, but was also closed down shortly after.
If you do come across one of these special tickets, make sure to plan the trip accordingly and well in advance! Hotels and restaurants get booked fast, so don't waste any time. The same goes for flights, and it is not easy to get stuck driving from Atlanta, which is over two hours away. The best options for an airport are Augusta Regional Airport, or Columbia Metropolitan Airport, which is about an hour away. There are also plenty of hotels to choose from in the area, as well as bed and breakfasts, and houses or rooms for rent. One of the most charming hotels in town is the Partridge Inn, which can be found in the old historic district of Summerville. If looking for something simpler, all the major hotel chains are represented in the area, and are fine places to stay. For all accommodations so please do not hesitate to contact us at http://www.masterstickets.co or 1-866-217-4777
The highly-regarded entertainment ticket marketplace, Inside Track Tickets, has launched http://www.MastersTickets.co, its newest ticket retail site featuring one of the largest supplies of tickets and hospitality packages to the 2013 Masters Golf Tournament in Augusta, Georgia. Available tickets include Masters Practice round badges, Wednesday's traditional Par 3 competition, and Masters Tournament tickets from Thursday through Championship Sunday. Not only can fans purchase the nearly impossible to find Masters tickets and hospitality packages for great prices, but they can also share their experience with friends and fans by participating in an interactive fan hub and social media experience showcasing an active Masters golf blog at http://masterstickets.tumblr.com that features The Masters Live updates, a Masters Leaderboard 2013, and a Masters Live Stream with video, news, and other constant updates on the golf tournament. MastersTickets.co helps fans plan out their agenda by using the Masters Schedule 2013 and the Masters Golf Tournament course map.