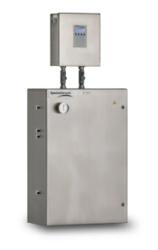 Houston, TX (PRWEB) March 04, 2013
SpectraSensors will participate in Instrumentation 2013 on March 14 – 15 in Carson, California. Comprised of an exhibition, technical training and career fair, it is a valuable event for those involved with process automation, instrumentation and control technologies.
Sam Miller, Director of Product Line Management, Natural Gas at SpectraSensors, is presenting a paper at the Instrumentation Expo and Training. Miller will discuss the measurement of H2S in Gas Processing Plants using Tunable Diode Laser (TDL) Absorption Spectroscopy (TDLAS).
Attendees can visit the SpectraSensors' booth to learn more about their Trace H2O analyzer and H2S analyzer systems.
More information: http://www.spectrasensors.com
Instrumentation 2013: http://www.instrumentation2013.com
About SpectraSensors, Inc.
SpectraSensors is a leading manufacturer of optically based moisture analyzers and H2S analyzers for analytical process markets. SpectraSensors uses Tunable Diode Laser Absorption Spectroscopy (TDLAS) in an array of products such as Ambient Air Monitoring Analyzers, Moisture Analyzers (Hygrometers) and Gas Analyzers for Natural Gas Pipelines and Processors, Petrochemical Refineries and Chemical Companies.
SpectraSensors Gas Analyzers measure: Moisture (H2O), Carbon Dioxide (CO2), Hydrogen Sulfide (H2S), Oxygen (O2) and more.
###