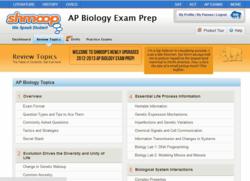 Mountain View, CA (PRWEB) March 04, 2013
For those who are gearing up to take the AP Latin exam and would really like to "carpe diem" … or those who will soon be taking the AP World History exam and would prefer not to bomb the section on the nuclear arms race … there is help.
Shmoop, a publisher of digital curriculum and test prep, has finished a guide to each AP exam that is offered. The company now proudly offers a guide for every AP exam students have ever wanted to take … as well as those they've been trying to avoid at all costs. Ahem, AP French.
Now students can prep for marathon sessions in the testing room with full-length practice exams, and then review the results with in-depth answer explanations. Shmoop can't exactly replicate the feeling of desperately needing to take a bathroom break with two hours to go, but it will do its darnedest to simulate it. In fact, students may want to invest in a colostomy bag.
So how will Shmoop's AP Guides help?

If a student thinks Caravaggio is one of the drink sizes at Starbucks, Shmoop's AP Art History Guide will help them master the masters. They'll learn all about Leonardo, Rafael, Michelangelo, Donatello and Splinter.
When studying for one of the AP Physics exams, students will often find their rate of energy decreasing. Shmoop will pump plenty of energy back into their systems so that friction doesn't slow them to a stop.
For the patriotically inclined, Shmoop offers prep for the AP U.S. Government and Politics exam. What makes the Constitution so important? Start with the fact that it's the oldest written plan of government still in force anywhere in the world—225 years old and still going strong. Not even Betty White can make such a claim.
Even if one is indifferent to chemistry, Shmoop can still get a reaction. Its AP Chemistry Guide will shed light on why molecules in solids have a hard time getting up close and personal, while molecules in liquids are free to mingle. It's kind of like the difference between being grounded and speed-dating—it dramatically increases the opportunity for something interesting to happen.
Shmoop can identify a student's strengths and weaknesses with its brand-new diagnostic exams. It's easier than taking blood pressure, and no one has to spend three hours on hold with Blue Shield afterward.
Looking for some extra practice? Shmoop has drills on drills on drills (on drills).
Students can track how they're doing with their very own, personally tailored dashboards. They just need to be careful when the tailor starts checking their inseam. They still have their rights.
For teachers who like organizing students into pods, pools, parties, and … uh, prides, Shmoop Classrooms offers the ability to monitor groups of students in their classes. It also comes in real handy when teachers need to form an impromptu mosh pit.
Want a bird's-eye view of Shmoopdom? Analytics lets a user monitor the nitty-gritty of all the students, teachers and classrooms under a license.
Shmoop has now completed a guide to every AP exam, making the site a one-stop shop for all things AP. From Statistics to Environmental Science to any AP "-ology," it'll help prepare students to knock the stuffing out of those big, bad tests.
About Shmoop
Shmoop is a digital curriculum and test prep company that makes fun, rigorous learning and teaching materials. Shmoop content is written by master teachers and Ph.D. students from Stanford, Harvard, UC Berkeley, and other top universities. Shmoop Learning Guides, Test Prep, and Teacher's Editions balance a teen-friendly, approachable style with academically rigorous materials to help students understand how subjects relate to their daily lives. Shmoop offers more than 7,000 titles across the Web, iPhone, Android devices, iPad, Kindle, Nook, and Sony Reader. The company has been honored twice by the Webby Awards and was named "Best in Tech" for 2010 and 2011 by Scholastic Administrator. Launched in 2008, Shmoop is headquartered in a labradoodle-patrolled office in Mountain View, California.
# # #