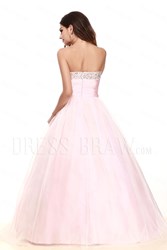 (PRWEB) March 02, 2013
Recently, DressBraw.com, a leader in the special occasion dresses for women market, presents its new range of cheap designer prom dresses. The new range comes with a discount of up to 70%. This is a limited time offer; orders can be booked at their website. In addition to this, the website is also featuring cheap junior prom dresses with discounts of up to 75%.
There are over 1500 items in the designer prom dresses category and many of them are priced at under $100. This is not only a promotional offer to hit the market, but it is also a way of expressing gratitude towards their worthy customers worldwide who have appreciated and approved the new range extensively. The company offers discounts so that every girl out there can shine by wearing the finest quality designer prom gowns in the upcoming prom season.
DressBraw.com has always aimed for superior quality and low rates. In line with this, the new collection has several new styles of dresses that are set in trendy styles and beautiful, different colors to satisfy the taste of varying customers. No matter what the pocket size of the customer, DressBraw can offer a lot to everyone without going beyond the budget.
Because of its international quality standards, every outfit in the new collection is extraordinary in terms of fabric, stitching, design and finishing. DressBraw understands that quality matters first and that low prices should never be an excuse for poor quality.
Based in China, DressBraw.com is an online retailer supplying omen wedding dresses and special occasion outfits. The company, with its fine quality and affordable rates, is one of the best dress makers in the market.
For more information, please visit: http://www.dressbraw.com/?utm_source=content&utm_medium=news&utm_campaign=index