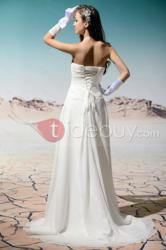 (PRWEB) March 02, 2013
Recently, TideBuy.com, an online store for women's clothes, has launched its newest 2013 spring collection of wedding dresses. The fabulous wedding outfits are available at discounted prices. The company claims to introduce new dresses on a weekly basis to hit the market.
TideBuy.com is one of the best dressmakers for cheap wedding dresses for women. Every collection of wedding gowns launched by this website has won approval from millions of customers around the globe. Now, the company is back yet another time with its newest wedding dresses 2013. These outfits too have managed to gather immense popularity within a short span of time. Owing to the latest designs, elegant colors and cheap rates of the outfits in the new range, the company has won the hearts of its worthy customers yet again.
The company has creative designers working to give the best designs that fit in the budget too. Despite their high quality outfits having the finest finishing, TideBuy.com dresses are supplied at extremely low rates so that even those with low budget can also buy them. In addition to this, the facilities of free shipping and fast delivery make the shopping experience all the more enjoyable for the customers. In order to avail this amazing promotional offer, order for TideBuy.com's outfits can be conveniently placed online via their website.
Based in Hong Kong, China, TideBuy.com is a women dresses retailer store operating online. The store is popular for supplying quality women outfits at lowest possible rates. Its fast delivery service and amiable customer care department make it one of the topmost brands in the market.
More information can be found at:
http://www.tidebuy.com/?utm_source=content&utm_medium=news&utm_campaign=index