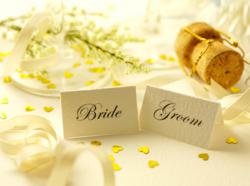 Newport Beach, CA (PRWEB) March 04, 2013
With Twitter and Instagram growing in popularity, so have the use of hashtags to organize wedding content, says Wedding.com.
Couples engaged in wedding planning are increasingly succumbing to growing technology and heavy use of social media. Couples request that any guests who post photos from their wedding use specified hashtags such as #jackandjillwedding. The purpose of wedding hashtags is for the bride and groom to easily find all photos taken by wedding guests in one place. Though the organizational aspect of hashtags seems like a good idea, some argue privacy is an issue (http://www.huffingtonpost.com/mobileweb/2013/02/28/wedding-social-media_n_2776477.html).
"If complete privacy is important to a couple, hashtags are probably not the best idea," says Brett Reynolds, CEO of Wedding.com. "If, however, the couple does not mind having pictures from their wedding lingering somewhere online, hashtags can be very useful in gathering guest photos in one place."
For more information about Wedding.com, please visit http://www.wedding.com.
About Wedding.com
Wedding.com is an innovative new website that connects engaged couples planning their wedding with wedding vendors looking to grow their business. Wedding.com contacts vendors for couples, giving them the power to compare and negotiate while ultimately saving time and money. With 12,000 couples and 22,000 vendors currently using the website, 105,000 proposals have already been sent since their inception. Vendors range in services from wedding planners, photographers, florists, and DJs to custom invitations, party favors, and much more. For additional information about the company and its services, please visit http://www.wedding.com.