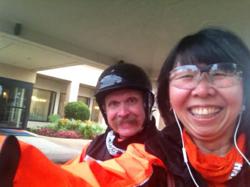 Whenever we go for a ride on the motorcycle, she always wants to stop and eat.
Washington, MO (PRWEB) March 06, 2013
Not all roads, restaurants, and hotels are motorcycle friendly. Jim and Demea Loyd have often found that proprietors do not always have the best intentions when it comes to motorcycles and their riders. It was these realizations that led to the creation of "Travels with Harley" and a full-blown Kickstarter project.
Funding for the campaign is open now and runs until April 1, 2013. Set to hit the road in May, the Loyds will criss-cross the USA on a 60-day trip, keeping track of every minute of their journey. These notes will then form "Travels with Harley," a travel guide of sorts, that includes a television series and a book. "Travels with Harley" will be available in both print and digital versions.
Jim, a veteran Harley rider of over 20 years, came up with the idea. He told his wife, Demea, that they should ride across America and review roads, scenery, restaurants, and hotels so that other motorcycle riders would have a more comfortable trip and stay. Along with these reviews and recommendations, "Travels with Harley" will introduce readers to the new and colorful friends that always seem to make their presence known whenever they jump on their Road King. The Loyds hope that their guide will pave the way for like-minded travelers who choose to take their two-wheelers across the country.
They say that opposites attract, and that is certainly the case with Jim and Demea. Jim is the epitome of Midwestern America. He is a meat and potatoes kind of guy who enjoys good old-fashioned comfort food, while Demea is more comfortable dining in upscale eateries and likes trying everything from escargot to sashimi. With their wide range of different tastes, they are the perfect pair for giving guidance in "Travels with Harley."
Kickstarter campaigns are operated under an "all or nothing" funding model. This means that if "Travels with Harley" does not meet its goal by April 1, 2013, Jim and Demea will not be able to take the ultimate road trip. Consider donating as little as $1.00 to help the Loyds reach their dream. The Kickstarter backers will be privy to daily updates that will chronicle Jim and Demea's adventures in "Travels with Harley." Digital road maps, books, and a meet and greet with Jim and Demea are just some of the perks available to Kickstarter backers.
For more information about, "Travels with Harley," or to schedule an interview with Jim or Demea, please email travelswithharley2013(at)gmail(dot)com, or send them a tweet @TrvlswithHarley. Be sure to visit the website at http://www.travelswithharley.tv and don't forget to like the project on Facebook at Travels With Harley.