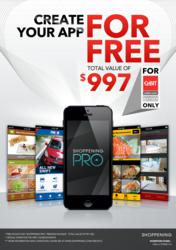 Enhance Customer Retention and Grow Your Business
Hannover, Germany (PRWEB) March 14, 2013
During the CeBIT 2013 conference in Hannover, Germany, SHOPPENING organized with partners to demonstrate their groundbreaking new platform, which enables businesses to increase customer retention and company growth. SHOPPENING provides mobile campaign management, offering loyalty and reward programs and a merchant management system that enables business transactions on smartphones. The platform also supplies advanced real-time analytics and a business dashboard.
The two platforms, SHOPPENING PRO and ENTERPRISE, allow any business to develop and create interactive iPhone and Android apps integrated with Facebook, Twitter, Google Maps, Foursquare, Instagram, YouTube, and Vimeo. SHOPPENING PRO, the Professional edition of SHOPPENING, offers a remarkably powerful tool that connects and promotes businesses, even engaging with customers. It's an easy way for business owners to create their own unique mobile application in order to build their brand.
"SHOPPENING PRO emphasizes customer loyalty to help businesses create their most effective applications. You can easily customize in-app special offers by using the coupon, stamp card, or punch card features to reward your customers with a redemption system, online monitoring, and analytics services," says Thanapongphan Thanyarattakul, President and Co-Founder of SHOPPENING. This provides a tremendous opportunity for business owners. SHOPPENING, unlike the company's competitors, uses these connectivity tools to create an immense potential market by maximizing value and enabling growth.
SHOPPENING ENTERPRISE is a suite of mobile and enterprise-class solutions available on a cloud platform. SHOPPENING ENTERPRISE enables businesses to build and run innovative apps, including promotional campaigns and CRM applications that include a comprehensive list of their platform's features. "This enables our clients to engage with their customers and enhance the CRM program," says Dr. Anurug Ruangrob, Vice President of Global Sales and Operations. "In addition, it provides robust API which allows application customization and development, which helps grow new revenue streams," he continues. The company already has a presence in the UK, Hong Kong, Thailand, and Singapore.
A Special Offer from SHOPPENING:
SHOPPENING, the Happening Lifestyle Platform, officially launches by offering the SHOPPENING PRO Premium Package free for 90 days. The SHOPPENING PRO Premium Package allows users to create their own unique mobile applications to promote their businesses. This package includes the full-featured app creator, utilizing coupons, stamp cards, and punch cards to reward customers. With advanced real-time analytics and the business dashboard, this offer has a total value of $997. Submitted mobile applications will be available to download for 90 days upon approval from the Apple App Store and the Android Market. This special offer is only provided to registrants who subscribe by March 31, 2013.
Subscribe now to start engaging with your customers and grow your business at http://www.shoppening.com/CeBIT2013.
For media relations, please contact press(at)shoppening(dot)com.