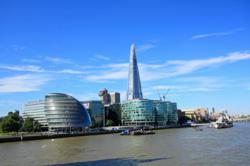 A sound investment today is all I need for the future
(PRWEB UK) 5 March 2013
The US embassy in London will move to Nine Elms, Wandsworth, near Battersea as reported by Bloomberg. The Wandsworth Council has agreed to final specifications for the 11-story cube-shaped building designed by KieranTimberlake that will be built on 5.3-acres. 'This is going to be an impressive sight in Nine Elms making the residents proud' said Rozi Bani-Ameri the founder of Easy Relocation (exclusive). The building is due to be completed in 2017, and will sit in the centre of a park, protected by a security screen and will feature a pond and gardens landscaped with solar panels and wildlife habitats. Nine Elms is Europe's largest district regeneration programme and will play a major role in the regeneration of South Bank of London. The area will provide residential properties and commercial outlets for shopping and eating out as included in the 2 million square meters planning consent. Also the Underground northern line extension forms part of wider plans to regenerate the Vauxhall, Nine Elms and Battersea for the thousands of visitors every week to the area. It is in the view of the estate agents that residential prices in the vicinity could rise by as much as 140 per cent, to £1,800 per square foot. A one bedroom London flat is on average about 549 sq. ft. and a two bedroom 760 sq. ft.
The London Bridge Quarter is creating a new commercial district with the most visible landmarks The Shard and The Place. The Shard is the tallest building in Europe and opened to the public on 1 February, 2013. The nearby Place is 40,000 sq. ft. innovative development with a landscape roof terrace. The London Bridge Quarter is a smart public area harmonised and linked by art installations, planting and relaxing spots with shops at concourse and underground level. In addition London Bridge station is set for an overhaul of £800 million announced by Construction Enquirer. The Thameslink programme will allow more passengers to access London Bridge and help the area's growth with a new two track viaduct to be constructed over Borough Market, easing congestion and enabling more trains to travel on north-south thorough London during peak times.
Concurrently London suburbs are undergoing similar regeneration programmes with the advantage of less expensive property prices.
Follow Easy Relocation (exclusive) on Twitter @EasyReloexcl and on Facebook at https://www.facebook.com/EasyRelocationExclusive
PO Box 66446
Maida Vale
London W9 4EJ
+44 (0) 20 7286 5249
Establish in May 2012, Easy Relocation (exclusive) offers affordable and comprehensive relocation assistance and home search to companies and individuals moving to the UK and moving to London. Unlike other UK estate agents, at Easy Relocation we hold no business commitments with third parties or letting agencies. This gives us flexibility to conduct personalised, attentive and wide ranging property searches tailored to each client's budget, needs and taste. To learn more about our services and to see what Easy Relocation (exclusive) can do for your business, visit http://www.easyrelocation.co.uk and join us on Facebook and Twitter for the latest news and tips on London relocation.