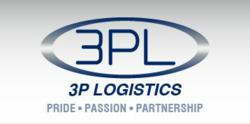 Your Complete Fulfilment Services Company..

You "source and sell" – leave the rest to 3PL
Cheshire, UK (PRWEB) March 08, 2013
3P Logistics is a leading provider of logistics and e-fulfilment services to online retailers. The company has recently announced cost-effective e-fulfilment service packages.
3P, one of the top providers for services like logistics and e-fulfilment, has now announced new e-fulfilment packages at competitive prices. The e-commerce fulfilment packages offered by this company are comprehensive right from the foremost point of order to the package arriving with the consumer.
Check out the e-commerce fulfilment services offered by 3GP here.
There is no condition of minimum amount for making use of 3P Logistics. All these cost-effective offers allow businesses to just pay for whatever services they utilize on a weekly basis.
A spokesman stated on behalf of the company - "Within the last 6 years 3P Logistics has firmly established itself has one of the UK`s leading providers of order fulfilment services to UK and International online businesses trading through the various retail channels such as EBay, Amazon, Play.com & own website. Supported by our dedicated customer care team we offer a comprehensive range of supply chain services to both B2B and B2C companies across most market sectors."
Customers can find a variety of enticing offers, since 3GP can keep their overheads low. 3GP works as a one-stop shop for all the services and the company accepts orders of all sizes. Although the firm is located in Warrington, it also offers services in the North West, including Liverpool, and Manchester too.
The spokesperson further said - "We take great pride and satisfaction in providing our customers with the highest degree of service continually striving for mutual growth with both new and existing clients.
Apart from e-commerce fulfilment, other services offered by the firm include industrial warehousing, freight management, distribution, and logistics as a whole.
The managing partner of the firm was quoted as saying - "Since e-commerce is a highly competitive field, it is vital to decide the right e-fulfilment solution for your business. 3P Logistics' e-fulfilment service package includes everything right from store pick & pack and home delivery service to returns handling and customer service. With our new service, we hope to serve many more new customers who're looking for cost-effective solutions."
Interested customers can call 0844 8712 011 to get a quote, to find more about the services offered or to arrange a trail. Alternatively, they can also fill a brief quotation form online, after which, they will be contacted by a marketing manager to discuss their specific needs.
About 3P Logistics
3P Logistics is Warehousing and Distribution Company that is owned privately and operates mainly out of North West of England. The firm provides a wide variety of high quality cost-effective Supply Chain services to B2B as well as B2C companies. 3GPL has been in the business for over six years now, and with the launch of latest e-fulfilment service packages, the company hopes to grow its throughput by 25-30% in 2013.
For more details about the services offered by 3GP Logistics, log on to its official website http://www.3p-logistics.co.uk