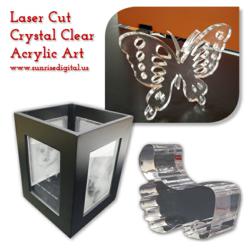 The laser cutting and engraving options open the door to some amazing possibilities... We're excited to offer crystal clear acrylic products, intricate die-cut of paper and labels, custom engraved iPhone cases, and so much more...
Chicago, IL (PRWEB) March 04, 2013
Laser cutting, as a graphic art medium, still is relatively in its infancy. Though it has been used successfully by some greeting card companies for over 20 years, it is just now beginning to find much wider use in other markets such as party accessories, stationery products, insert ads, and direct mailings. Laser cutting has also been extremely popular when a crystal clear edge quality is required when cutting hard plastics such as acrylic awards and displays. When placed in the hands of an innovative manufacturer, laser cutting is no longer a high-priced novelty medium reserved for limited quantities and high-end applications.
Innovation has always been the driving force at Sunrise Digital, one of the most recognized names in Chicago's color printing market. The company focuses entirely on digital printing, offering products ranging from business cards, personalized direct mail, booklets, training manuals, to large format graphic such as posters, banners, trade show displays, retractable banners, corporate lobby signage, retail window graphics, and much more. Sunrise has always offered digital contour cutting using blades and routers, on materials such as paper, foam boards, Sintra, acrylic, wood, etc.
Recently, customers are demanding products with more advanced cutting only possible with laser, prompting the company to invest in the latest laser cutter from Austria-based Trotec, a leader in laser cutting equipment. Trotec's laser cutters offer the patented "In-Pack" technology for cleaner parts, enhanced reliability, and smoother gantry movements. With the new cutter, Sunrise is offering cutting and engraving on a wide variety of materials such as acrylic, cloth, cork, delrin, fiberglass, leather, mat board, melamine, mylar, paper, plastic, pressboard, rubber, wood, and more.
Target markets for the new laser cutter include custom engraved iPhone and iPad cases, greeting cards, acrylic awards & trophies, promotional items, sign & displays, smartphones and laptops, architectural models, barcodes & serial numbers, educational, medical technology, packaging design, and more.
Within the last couple of years, one of the most rapidly growing uses of laser cutting has been in packaging. The unique qualities of laser cut surfaces add elegance to food and cosmetic packaging that would be difficult to achieve in any other way. Cut openings can have a delicate visual quality and offer a subtle peek at the product or allow customers to sample scented products. The tactile quality of cut paper also creates an additional level of interest. Especially useful for short-run prototype packaging, laser cutting is giving Sunrise Digital a new tool with which to differentiate their products.
Sunrise Digital is offering laser engraved iPhone cases in its online store at iGearUnlimited.com. The new laser engraving option allows customers to upload their favorite artwork and make a truly one-of-a-kind bamboo phone case. Using an easy-to-use online Interactive Designer, customers can upload, crop, scale, and position the artwork on the fly. Adding customized text and approval of the the finished design all happen directly from within the web browser instantly.
About Sunrise Digital
Sunrise Digital is an Inc. 5000 company established in 1988 and employs the most advanced equipment and technology, such as G7-certified HP Indigo and UV flatbed presses, laser engraving, and digital die-cutting, to create best-in-class color printing, short-run packaging, P.O.P. retail displays, and signage products. A privately-owned enterprise, the company is based in Chicago and sells products worldwide.