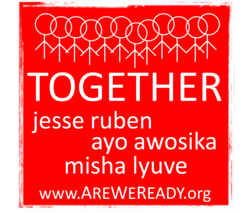 Alone we can do so little; together we can do so much
New York, NY (PRWEB) March 04, 2013
Misha Lyuve is raising $1,000,000 for Worldwide Orphans Foundation through sales of his debut album ARE WE READY and donations.
On March 11th, talented singers and songwriters Jesse Ruben and Ayo Awosika are joining him at legendary (le) Poisson Rouge to achieve this goal. Be with us on this night of artful music and poetry, your favorite drinks, warm-hearted people and making a difference. All proceed go to WWO. (For tickets and venue info, click here )
Worldwide Orphans Foundation (WWO) is an organization that is dedicated to transforming the lives of orphaned children to help them become healthy, independent, productive members of their communities and the world.
At the event Misha Lyuve will share about his recent trip to Haiti and the work WWO is doing there.
About the artists:
Jesse Ruben's latest song and video "We Can" from the album "Thoughts I've Never Had Before" became the theme song for a school district in Courteney, BC, Canada and students, teachers and faculty alike. The song started a one-of-a-kind inspirational movement in the US and Canada.
Ayo Awosika has mixed her love for the complexity of jazz and soul with the honesty of folk and roots music, working to find the place where these worlds meet in her songwriting. Ayo is currently working on her debut full length album with Grammy award winning producer Scott Jacoby – set to be released in the spring of this year.
Misha Lyuve is a Wall Street management consultant and an artist. He believes, preaches and breathes living one's life artfully while working on Wall Street or in a corporate world. His songs will make you laugh and cry; the will move and surprise you; they will bring newness to what you've been taking for granted and inspire you out of your mind.