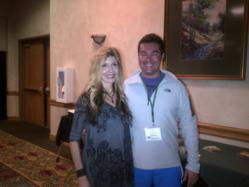 Breckenridge, CO (PRWEB) March 02, 2013
This week in Breckenridge, Colorado, the National Recovery Ski&RideAthon Weekend is taking place. It is first annual event and is bringing together the recovery community. The event is put on by the Harmony Foundation, a drug rehab center whose mission is to provide the foundation for sustained recovery from the diseases of drug and alcohol addiction.
Into Action Treatment is attending the event as well, a South Florida drug rehab, and just like the Harmony Foundation, they are focused on long term recovery from drug addiction. "Our goal at Into Action Treatment is to help our clients recover from drug addiction. We do not want our clients to return to us for treatment, because that means we have not done our jobs," said Andrey Rossin, founder and CEO of Into Action in Boynton Beach, Florida.
At the conference, Into Action Treatment is connecting with other like minded centers and people, who believe that the steps and solid addiction treatment provide the best opportunity for long term recovery. One of the people Rossin and Into Action Treatment met is the long time country music and recovery singer, Sonia Lee. She is known for her message of hope woven throughout her songs. Into Action met with Sonia Lee today at the conference.
"We are very excited to be connecting with such an amazing group of people. Sonia Lee is a great example of carrying the message of hope to the alcoholic and addict who still suffers. We hope to have her down to Florida to share the message with our clients at the center someday soon," said Rossin.
Into Action Treatment center is known for their emphasis on the arts. Their clients get hands on experience with art therapy, which the staff finds helps them express their addiction and ultimately be free of it. "We know the arts are a very important part of recovery and we want to help our clients express themselves in healthy ways, instead of the normal ways they repressed themselves in the past," remarked Andrey Rossin.
The National Recovery Ski&RideAthon Weekend is a weekend full of hope and carrying the message of long term recovery from addiction, and the meeting of caring people in Andrey Rossin and Sonia Lee is proof that the message is stronger than ever. "We want everyone who wants to over come their addiction to be able to do this," Rossin said, "And in our center we do everything possible to make sure our clients get the opportunities they need to excel in recovery."