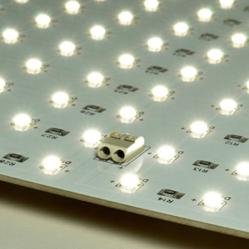 The American-made LED light panels offered by LEDLightModules.com were given a lifetime estimate of over 120,000 hours.
Shreveport, Louisiana (PRWEB) March 03, 2013
The one-foot square LED flat light module looks like something you would pull out of a computer, but the aluminum printed circuit board is actually covered with 196 light emitting diodes. LED lighting is already touted as an energy-saving, long-lasting lighting technology, but the news seems to be getting even better and better.
In a recently released technical analysis conducted by the Cree Durham Technology Center, the newly introduced American-made LED panels offered by LEDLightModules.com were given a lifetime estimate of over 120,000 hours. That is over 40 years, based on 8 hours of use per day.
Cree says that their Technical Memorandum standard provides "an industry-wide, standard and conservative method on which to base lumen maintenance of LEDs."
"Given a 'conservative' estimate of such durability and longevity from a renowned industry leader like Cree is high praise, indeed," says LEDLightModules.com owner Hal Bundrick. "The fact that our LED light panels are made in the USA and can compete with the best in the world is something else we are very proud of, as well."
The LED printed circuit boards (PCBs) are manufactured to stringent quality standards with a full surface of brilliant LEDs -- burning 75% less energy than fluorescent lights. Three times brighter than an old-fashioned 75-watt incandescent bulb, this is an energy efficient lighting solution with no maintenance, no mercury, heavy metals or UV radiation. This is truly an Earth-friendly lighting solution. From a tiny LED light panel less than four inches square -- to an array of LED modules lighting an entire room, the amazing light applications are only limited by a designer's imagination.
Constructed of .31-inch aluminum, the LED light modules are thin, durable and well-suited for accent and egress illumination, backlit point of purchase signs, ceiling lighting, architectural accents as well as for floors, walls, furniture and retail displays. This versatile illumination can be used for lighting shelves, casework, back lighting stone or stained glass, as well as for faux window treatments and faux skylights.
"Manufactured here in Louisiana, you could think of this LED light module as a high-tech light bulb," adds Bundrick. "It is the perfect component for the lamps, luminaires, ceiling fixtures or back-lit walls that today's lighting designers are dreaming up. These LED flat panels are dimmable, UL listed, low voltage and maintenance free, too."
Additional information, including a link to the Cree technical report, can be found at http://www.LEDLightModules.com.