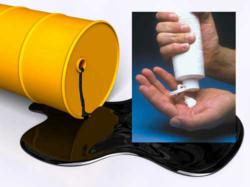 Do you think that processing petrochemicals make them safe to put on your skin?
(PRWEB) March 06, 2013
It is alarming to know that many major brands of skin care and personal care products contain petrochemicals in them. Even brands that are advertised as "natural" may also contain some petrochemicals.
"Many of these petrochemicals are known and scientifically proven to be toxic." According to the campaign for safe cosmetics website. "They can cause eye impairment, intestinal damage, kidney and liver problems, breathing problems, cysts, skin spots, rashes, premature aging and hair loss. Some are endocrine disruptors (that can cause hormonal disruptions and produce adverse developmental, reproductive, neurological, and immune effects), and some even carcinogenic (that can cause cancer, and in particular breast cancer)".
SKIN all natural™ compiled a list of the most common petrochemicals used in personal care products. Consumers should carefully read the ingredient labels on the products and be fully aware of what goes in it. Here is the list:
Propylene Glycol, Petrolatum, paraffin, Mineral oil, Anything with Methyl, Propyl, Butyl prefix. benzene, Toluene.
PolyEthylene Glycol or PEG family, PEG-100 Stearate, PEG-8, PEG-80, Cocoate, Peroleate andPEG 15 Soyamide/IPDI Copolymer.
Diethanolamine (DEA) and Triethanolamine (TEA) family:Lauramide DEA, Cocamide DEA, Cocamide MEA, DEA- Cetyl Phosphate, DEA Oleth-3 Phosphate, Linoleamide MEA, Myristamide DEA, Stearamide MEA, and TEA-Lauryl Sulfate.
Methylparaben, Ethylparaben, Propylparaben and Butylparaben preservatives.
Carbomer & Carbopol – petroleum derived thickeners.
Sodium Laureth Sulphate, Sodium Lauryl Sulphate, Lauryl Glucoside, Coco-Betaine, are all made using petrochemicals.
Keep this list of "ingredients to avoid" handy when shopping for skin care or personal care products. FDA does not regulate the industry but CONSUMERS CAN, with their pocketbook and becoming ingredient savvy consumers. The safest bet is to choose products that contain all natural, whole and unprocessed botanical ingredients.
Choice All natural, Inc. is a small manufacturer of truly natural consumer products that uses full spectrum (whole) bio-active botanical ingredients. Located in Apex, NC, the company is committed to providing a real choice to consumers looking for products supporting their healthy, chemicals free life-style. All their products are cruelty free and vegan.