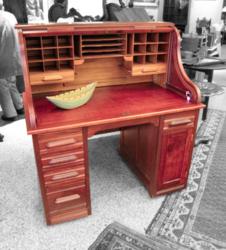 My father told me, "treat somebody right, and they tell 5 people. Treat them wrong, and they tell 50."
Rochester, NY (PRWEB) March 02, 2013
After 30 years in the business, Mike Deming is a man with a comprehensive and authoritative knowledge of antiques, fine art and rare collectibles. He's owned more antique shops than he can remember ("I have it written down somewhere, I think it's around 10.") and he's been a dealer, an auctioneer, a television commentator, appraiser, as well as the manager of the Webster Antique Center, a multi-dealer shop with as many as 50 dealers. An expert appraiser of antiques, households and personal property for large estates he is frequently hired by attorneys when the estate contains rarities and unusual, high-value items that are sometimes hard assess and when accurate valuation is critical.
He was also the host of the weekly Cable TV feature, The Antique Guy for over 150 episodes, that was syndicated into several markets and focused each episode on a different type of antique—coins, costume jewelry, postcards, sterling silver, tea caddies, pottery, fountain pens, Hummels, etc.
A FAN OF ANTIQUE ROADSHOW?
"Well, to be honest, not really. Many of the original appraisers were guys I knew, and they are all gone now. But i recognize the popularity of the show and I understand it. Doesn't everyone wish for something like the appraisals on Roadshow, to happen to them? Some dusty trunk in the attic turns out to contain a forgotten treasure, a painting on the wall in the dining room that's been there so long nobody even notices it, turns out to be a rare piece by a highly regarded artist? Wow, that's better than a winning lottery ticket."
That's what made me decide to do the Sideshow. That's what we are calling it: Mike Deming's Antique Sideshow. Because I ain't taking it on the road." He laughs. "But seriously, I see the affect Antique Roadshow has on people—it opens their eyes to the beauty and specialness of old items, and sparks their interest in antiques and history."
Deming just recently reopened a new gallery at 1458 Monroe Avenue, at the Brighton town line. "It's the perfect spot. The space is big and I've got room to expand downstairs"
On Saturday April 6 he'll have the place set up for a Roadshow style appraisal, and will video tape the who whole event. "It starts at 1, and we're going to have to see what kind of a turn out we get." Mike said. "But by all means we want you to bring in that old thing, whatever it is, that's been in the family for years. Let me give you the best judgement I can provide."
For more information, visit Mike Deming on Facebook at https://www.facebook.com/AntiquesMikeDeming to find out more.
"If it looks like we are going to have a big turout, I may ask people to submit photos to the Facebook page so we can vet out the pieces ahead of time."
Come on down, it ought to be fun."
Mike Deming Antiques
1458 Monroe Ave
Rochester, NY 14618