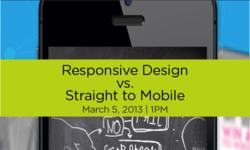 Columbia, MD (PRWEB) March 05, 2013
The era of deciding whether or not to build a mobile solution for your business should officially be in the rear view mirror, and for many businesses the fork in the road ahead lies in the decision to opt for responsive design or build a separate mobile website.
While on paper the responsive path seems the obvious choice, the FiddleFly team begs to differ and today through a live webinar they intend to show businesses how the choice to go responsive is not always the best. Along with detailing the ins and outs of each method, the FiddleFly team will display real world success and failure stories and explain how marrying the two philosophies can actually lead to better results.
The responsive vs. mobile-exclusive debate has been picking up more and more steam as of late, due to the fact that more developers are becoming familiar with responsive coding and thus the gap between the responsive sites they are building and the platform-exclusive sites that preceded them seems to quickly be closing. While design elements may not be worlds apart between the two approaches, a number of other factors such as user experience, goal conversion, SEO, and marketing need to be considered when making the decision.
Whether your business is just getting its web presence underway, or is looking to stay current by keeping up with the most efficient new technology, responsive design choices will be on your list of discussion topics soon if it isn't already. To get your free seat at tomorrow's presentation, and to see what topics FiddleFly will be tackling in the future, simply head to http://mastering-mobile.com.
About FiddleFly
Since its inception in 2010, FiddleFly has provided mobile web solutions to businesses around the world. From software to design as well as development and strategy, the FiddleFly team's sole purpose is to help the world have better mobile web experiences that produce real, measurable outcomes for businesses..