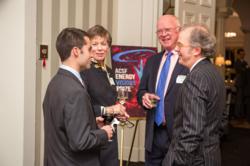 WASHINGTON, DC (PRWEB) March 02, 2013
Innovators in the fields of film, video and web-based applications claimed $250,000 in prizes at the ACSF Energy Visions Prize gala in Washington, DC last night. The prizes were awarded for works that advanced a vision for America's energy security and a cleaner, low carbon environment. In the category of mobile applications, the Grand Prize went to Novim's interactive visualization of its Berkeley Earth Surface Temperature (BEST) study of climate change.
Titled "Just Science" (to highlight Novim's agenda-free scientific studies), the application features an interactive color-coded video map of the planet, displaying how the land surface temperature changed between 1800 and 2009. Users can explore details by zooming into geographic regions, changing playback speeds, and linking to Wikipedia to reference contemporaneous world history. Currently available free for the iPhone or iPad, Just Science can be downloaded from Apple's iTunes Store.
Novim is a non-profit scientific research group located on the UC Santa Barbara campus. Additional information is available at http://www.novim.org