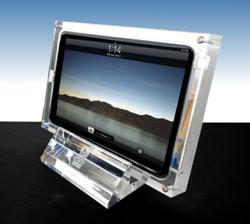 Stunning visual display, ideal for corporate private labeling.
San Diego, CA (PRWEB) March 04, 2013
Personalized, elegant and secure, the new Signature Series Acrylic Display from newMacgadets, offers the ultimate in showcasing the iPad or iPad Mini.
Masking itself as a work of art instead of a secure iPad base, the new Signature Series Acrylic Display gives companies the opportunity to private label their brand in a highly-visible all acrylic display. The stylish and custom overall look exceeds any other product on the market while enhancing your corporate image in multiple venues.
The iPad or iPad Mini is held within a 1″ clear acrylic frame that secures within the pedestal mount in either the portrait or landscape position. Slightly angled for optimal viewing, the iPad is now part of a stunning acrylic display. Best of all, corporate logos can be featured on the front facade, adding to the rich overall look.
The pedestal base securely mounts to any counter-top with screws or adhesive strips to provide a sturdy support for the frame. The frame secures within the base with stainless steel tamper-proof screws to prevent removal. In addition, the charging cable routes behind the base to offer a clean and unobstructed look.
Banks looking for an advertising display at the counter, a high-end retailer looking for the ultimate signage, a real estate company searching for a marketing edge or companies that need a stand-out display for the next trade-show, then the new Signature Series Acrylic Display may be the solution they have been searching for.