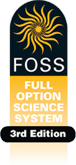 Our new edition of FOSS is a truly blended program with hands-on activities, reading and writing, and meaningful digital resources.
NASHUA, NH (PRWEB) March 05, 2013
Full Option Science System (FOSS) Third Edition from School Specialty's Delta Education is a winner in the "District Administration" Readers' Choice Top 100 Product Awards. With a record number of high-quality nominations, the winners were selected by the editors of "District Administration" based upon the quality of the descriptions submitted by K-12 district-level school leaders.
FOSS is the leading inquiry-based science program in America. Developed at the Lawrence Hall of Science at the University of California, Berkeley, and published by Delta Education, this research-based curriculum for elementary school students is the first program to reflect the national vision described in A Framework for K-12 Science Education: Practices, Crosscutting Concepts, and Core Ideas (National Research Council, 2012). An all-new elementary program, FOSS Third Edition is based on the belief that students learn science by doing science. Research supports that the best way for students to appreciate the scientific enterprise, learn important scientific and engineering concepts, and develop the ability to think well is to participate actively in scientific practices through their own investigations and analyses.
The annual "District Administration" Readers' Choice Top 100 Products award recognizes leaders in the education industry, and provides superintendents and other senior school district leaders with the unique opportunity to learn what products their colleagues around the country are using, and how these products contribute to the success of their districts.
"The record number of nominations we received this year was astonishing," said the magazine's executive editor, Odvard Egil Dyrli. "There were so many excellent recommendations from school administrators who shared how the products made significant differences in their districts, and choosing the Top 100 proved to be challenging and difficult. We are delighted to announce the honorees for 2012 and trust that the list will be a valuable resource for our readers."
"We unveiled FOSS Third Edition just 10 months ago at the 2012 National Science Teachers Association Conference so it is a real tribute to the enthusiasm for this program to have it honored by the most important audience -- educators -- so shortly after launch," said Mike Lavelle, President & CEO of School Specialty. "Our new edition of FOSS is a truly blended program with hands-on activities, reading and writing, and meaningful digital resources. This new edition starts young learners on the track to building the critical thinking skills necessary for career and college readiness and beyond."
For more information about FOSS Third Edition, go to http://www.deltaeducation.com/science/foss3/.
About School Specialty
School Specialty, Inc. is a leading education company that provides innovative and proprietary products, programs and services to help educators engage and inspire students of all ages and abilities to learn. The company designs, develops and provides preK-12 educators with the latest and very best curriculum, supplemental learning resources and school supplies. Working in collaboration with educators, School Specialty reaches beyond the scope of textbooks to help educators, guidance counselors and school administrators ensure that every student reaches his or her full potential.
Delta Education, a part of School Specialty's Science division, delivers the best of hands-on, inquiry-based science education to K-8 students. Trusted brands from Delta Education include FOSS, Delta Science Modules (DSM) and engaging informational texts including Delta Science Content Readers. For more information about Delta Education (School Specialty Science), visit http://www.deltaeducation.com or http://www.schoolspecialty.com.