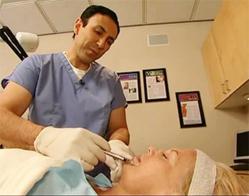 Los Angeles, California (PRWEB) March 03, 2013
According to a February 24, 2013 USA Today report, data from the American Society of Plastic Surgeons indicates that the number of plastic surgery procedures in the United States jumped by 5 percent from 2011 to 2012. Breast augmentation was the most popular invasive surgery and Botox and Dysport injection the most common non-invasive option, with over 6 million treatments performed (Go to: goo.gl/j6S8w).
"My practice is solely focused on minimally invasive aesthetic medicine," says Dr. Ourian, Medical Director of Epione Beverly Hills, "so I'm not surprised at the shift away from traditional surgery towards minimally invasive options. I believe it's driven by a combination of economic forces, people have less money to spend, and significant improvements in the technology."
Just as it was in 2010 and 2011, the overall growth in plastic surgery appears to be due to a significant increase in minimally invasive treatments such as Botox, chemical peels, and soft tissue fillers. These treatments have little to no recovery time and eliminate many potential complications that accompany traditional plastic surgery.
Though overall treatments were up, traditional plastic surgeries fell 2% to just under 1.6 million surgeries in 2012. Breast augmentation, rhinoplasty, eyelid surgery, liposuction, and facelift were the top five surgeries reported. In all, more than 13 million minimally invasive procedures were performed in 2012 with dermal fillers, chemical peels, laser hair removal, and microdermabrasion rounding out the list after botulinum toxin injections (Botox or Dysport).
Dr. Ourian believes that minimally invasive treatments may lessen some of the daunting perceptions that some have about cosmetic surgery. He says, "The improvements that have been made to devices for laser skin resurfacing, ultrasound and radio frequency skin tightening, and dermal fillers are remarkable, and as medical technology continues to improve, even more precise and safer procedures will undoubtedly emerge."
Dr. Ourian has been a pioneer in laser technology and non-invasive aesthetic procedures including Restylane, Juvéderm, Radiesse and Sculptra. These treatments are used for the correction or reversal of a variety of conditions such as acne, acne scars, skin discoloration, wrinkles, stretch marks, varicose veins, cellulite, and others. More information about minimally invasive procedures can found on Epione's website.