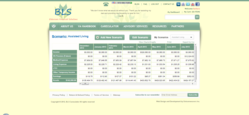 "I paid the one time fee for the careculator . Thanks for the excellent resource."
Dave Mosick
Livingston, NJ (PRWEB) March 05, 2013
In an ongoing mission to help families and their loved ones, BLS Eldercare has created a groundbreaking online application. Its new Careculator analyzes all the alternatives to help relatives of seniors make informed decisions about their care. What's more, the tool can be used from anywhere in the country using the internet.
Careculator works in two ways. First, it uses a unique algorithm to uncover and analyze an elder's resources. Then, in a consolidated view, it shows interactive charts and graphs estimating available resources, net cash flow, expenditures, and how long the money will last.
Second, the Careculator application compares various scenarios for elder care. It uses realistic options such as assisted living, home care, nursing homes, Veterans benefits, Medicaid, and long-term care insurance to determine the best-fit scenario for a given elder and their resources.
Barbara Steinberg, founder of BLS Eldercare, is the creative force behind the Careculator. "I am passionate about finding the best solution for each client's situation, and I recognize the impact that long term care has on the family as well as the client," says Steinberg.
Unlimited online access to the Careculator is available for a one-time fee of $99.95. For each sale, BLS Eldercare will donate $1 to the Alzheimer's Association.
About BLS Eldercare:
BLS Eldercare provides affordable financial planning for elder care. It offers heartfelt guidance for families of seniors facing rising health care costs and challenging financial situations. Founder, Barbara Steinberg, is also an expert in veterans' benefits for seniors. Her book, Crack The VA: Discover Hidden Benefits For Your Parents, has been widely acclaimed by families as well as the senior health care community. To find out what BLS Eldercare can do for you, visit http://www.BLSElderCare.com.