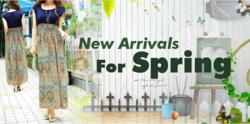 (PRWEB) March 03, 2013
Recently, Evermissfashion.com, a leading manufacturer and exporter of specialized fashion products, have launched its spring 2013 fashion collection. The new range features various styles in dresses for women, footwear, bodycon dresses and accessories like sunglasses for women, scarves, bags and purses. All these products are displayed on their website.
The company not only manufactures finest quality fashion products, but it also exports these products to its customers round the globe. Its dresses and accessories are of deluxe quality and are supplied to consumers at discounted prices.
The new arrivals for spring 2013 are set in beautiful floral patterns and colors of the spring season. In addition to the latest collection of dresses for women, the website also features an entire new range of handbags and purses. With its extensive collection in totes and bags, it is, no doubt, the best handbags outlet supplying fashionable and stylish bags and purses for trendy ladies. Apart from supplying beautiful apparels, shoes and handbags, the website also has to offer an exquisite range of jewelry. The jewelry is set in trendy designs which every woman would love to wear.
The exceptional customer care services and professional guidance, the company works to make the shopping experience extraordinary one for its customers. Besides, the website has a user friendly interface with easy navigation options so that every item in each category is easily accessible. Customers can order their desired products quite conveniently.
Established in the year 2007, Evermissfashion.com specializes in supplying fashion products of exceptional quality and extensive variety. It has a large collection of fashion apparels, shoes and accessories. Its products are of export quality.