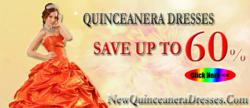 (PRWEB) March 03, 2013
Today, NewQuinceaneraDresses.com, a leading Quinceanera dresses online supplier, launches its 2013 Quinceanera Dresses collection, and offers an up-to-60%-off discount to make their dresses available to more people. According to Sherri Wang, CEO of the company, the promotion is valid for any order before Mar. 15, 2013.
The total of 221 items in the 2013 Quinceanera Dresses collection includes many hot styles this year: pretty Quinceanera dresses, unique Quinceanera dresses, zebra Quinceanera dresses, puffy Quinceanera dresses, and, etc. With the discounted prices, they are very attractive for many parents planning a celebration.
"I am very excited to introduce this new collection to our loyal customers. Our company has obtained many positive comments for the quality and beautiful Quinceanera dresses in the past years, and there is no exception this time," says, Sherri Wang. "The 2013 Quinceanera Dresses come in various colors and styles. Some customers always said our dresses look like those they paid thousands."
She continues, "The online market is the most important market for our company, and we are happy to see faster growth of our business there. Now, it is the right time to give something back to our customers. Any one who wants to buy a cheap Quinceanera dress can spend a few minutes browsing through our new collection. We offer vibrant color options to allow each girl to be creative and playful with the planning for their big celebration. We are trying to offer customer more choices with affordable price."
About NewQuinceaneraDresses.com
Founded in 2006, NewQuinceaneraDresses.com is a reliable online store for Quinceanera dresses, sweet 15 dresses, prom dresses, and more. On NewQuinceaneraDresses.com, international customers can choose from a wide range of products at acceptable low rates. NewQuinceaneraDresses.com accepts customer's own design, and provides custom service as well.
For more details, please visit http://www.NewQuinceaneraDresses.com/