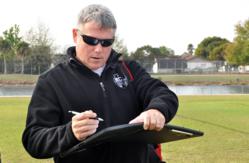 By utilizing our Kicking IndeX (KIX) Player Rating System, NCS provides an objective evaluation platform for student-athletes who want to showcase their capabilities to colleges and universities for recruiting purposes. Michael Husted
San Diego, CA (PRWEB) March 03, 2013
RealKickers will host a National Camp Series (NCS) evaluation event for high school kickers, punters and snappers in Pensacola, FL, on March 23, 2013, according to Camp Director Eric Fritz.
Go here for more information about the RealKickers' NCS evaluation event.
A second team All-Region Placekicker - Florida out of Woodham High School (FL), Eric Fritz signed and accepted an appointment to the United States Coast Guard Academy where he started and performed Placekicking and Kickoff duties.
After leaving the U. S. Coast Guard Coach Fritz earned two degrees in 1996 from the University of South Alabama (BSBA Operation Systems Management) and the Hogeschool van Arnhem en Nijmegen (The Netherlands), (BBA Certification - European Logistics & Distribution) and a Master's in Public Administration in 2006 from Troy University.
Fritz has a unique experience as a player that kicked traditionally, teaches and coaches American Soccer Style, Punters and Deep Snappers and likes to crunch numbers for fun. Coach Fritz is dedicated to building positive work habits, character and integrity, which results in a positive coach/player learning environment all based with statistics and objective measurements.
Kicking coach Michael Husted, who created the NCS after kicking in the NFL for 9 years, says he is excited about and working with Eric Fritz on his NCS evaluation events in 2013 and beyond.
"NCS kicking camps are run by some of the best kicking coaches in the country," says Husted. "Their goal, and the goal of NCS is to provide high quality instruction to high school kicking specialists around the country like the coaching provided by Eric Fritz of RealKickers."
Husted says great coaching and objective evaluations is what kick coaching should be about.
"By utilizing our Kicking IndeX (KIX) Player Rating System, NCS provides an objective evaluation platform for student-athletes who want to showcase their capabilities to colleges and universities for recruiting purposes," says Husted.
"By sorting through over six years of historical event data, the KIX system determines a kicker's rankings by cross-referencing player data to determine how the athletes stack up against others, both presently and historically," he says.
Adding, "2012 shaped up to be the best year yet for the National Camp Series. After a strong 2011, and having introduced our Kicking IndeX (KIX) Player Rating System, we are positioned extremely well to leverage analytics to showcase our athletes, and to provide 'objective high school kicking specialists statistics' to college and university coaches."
"The NCS levels the playing field for those who don't want to get caught up in all of the 'politics' that occurs in the kicking industry," says Husted. "If you can kick, punt or snap, the NCS KIX system will let a young kicking specialist's skills speak for themselves. No excuses. No explanations."
"We don't rank the athletes...they rank themselves through the NCS KIX system," he says.
Go here for more information about the National Camp Series and the dates and location of upcoming NCS events.
Go here for the National Camp Series Kicking Coach Directory.