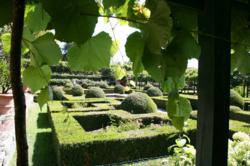 Tours for travelers, not tourists.
Sarasota, FL (PRWEB) March 15, 2013
For the past 20 years, interior designer Jean Renoux has led bespoke tours across several continents; to countries such as Italy, England, Hungary, the Czech Republic, Spain, Switzerland, Tunisia and Morocco, where inquiring travelers are immersed in the architecture, décor, furniture, music, art and culture of each destination. The Experimental Traveler will be taking the venture to the next level, by broadening the travel horizons of his loyal clients, and bringing new adventurers into the fold.
Born in France, Jean Renoux is a true cosmopolitan, who has lived not just in his native country but also in Tunis in North Africa, in London, Paris, New York, and Washington DC. Today, he resides in southwest Florida, from where he creates his exclusive tours with the finesse that only someone who is a world traveler can. Using his designer's eye and years of expertise, he crafts exciting, educational, and unique journeys for small groups, and accompanies each tour as guide and mentor. Accommodations are always first-class, restaurants carefully chosen, and his clients' needs paramount, so that each day is filled with the perfect balance of inspiration and relaxation.
For the discerning traveler, looking for a one-of-a-kind experience, upcoming tours in 2013 include trips to study the work of 16th and 17th century architects in Rome, Vicenza, Asolo, and Venice at the beginning of May, and later that month a tour of Italy's beautiful Amalfi coast, to include a trip to enchanting Capri. At the end of May, the islands of Malta and Sicily beckon for those interested in ancient history, and, for aficionados of the late architect, writer, urbanist and designer, Charles-Édouard Jeanneret, Le Corbusier's connoisseurs' adventure - traveling from the South of France to Paris, with a stop at the Chapel at Ronchamp - will be irresistible. With so many adventures to choose from, and tours selling out quickly, it is recommended to book early.