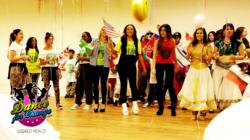 Dance unites people of all ages and cultures, it brings people together. Our mission is to help educate the youth, keep them off the streets, safe from violence and promote peace not war through dance.
Los Angeles, Ca (PRWEB) March 03, 2013
Cymphonique Miller, actress, singer and philanthropist hosted event "Dance For Change Unite: A Day of World Peace" where professional dance choreographers and dancers came together with inner city youth, promoting world peace and education through their mutual love for the art of dance.
The event took place in Los Angeles, CA where hundreds gathered to experience many cultures of dance, from Bollywood to Hip Hop, Salsa and Modern Dance. The day was filled with joy, excitement and smiles on the painted faces of kids and their families. The infamous clown dance entertainers Lil Tommy and his crew wowed the crowd with their performance, topping it off with their youngest krumper, 3 year old "Lady Bug".
Cymphonique, the 16 year old CEO of Prestige Performing Arts Academy, stated, "It's an honor to be surrounded by so many people who share the same passion for dance as me. Dance unites people of all ages and cultures, it brings people together. Our mission is to help educate the youth, keep them off the streets, safe from violence and promote peace not war through dance. Today, together we truly made a difference. We started in California and we will tour New York, D.C., Tennessee, Mississippi, Florida and Louisiana."
For more information, go to http://www.DanceForChangeUnite.org