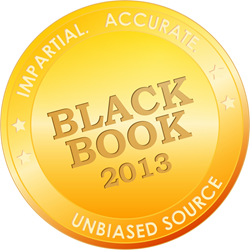 New Orleans, LA (PRWEB) March 05, 2013
Lack of customization and poorly executed integrations severely soured physicians on their original EHR selections, according to 17,000 recent Black Book EHR survey participants. In particular, with the exception of primary care practices, medical and surgical specialists are ready to revolt.
Of the nearly seven hundred EHR developers in the marketplace, a handful of companies stand in the spotlight of highest multispecialty client experience and customer satisfaction honors, according to current users.
"Delivering an evolving, interoperative, practical system to a host of specialties is huge feat for small, immature EHR vendors," said Doug Brown, managing partner of Black Book. "Some EHRs were designed and focus on a single specialty and thrive, but others stretched thin on responsiveness and implementations in the name of business development to specialties outside their scope of expertise."
Vendors receiving the most #1 top rankings (in multiple EHR specialties) are:
Four+ 2013 Black Book #1 awards:
e-MDs
Bizmatics PrognoCIS
McKesson
Three 2013 Black Book #1 awards:
ADP AdvancedMD
Cerner
Optum
PracticeFusion
Two 2013 Black Book #1 awards:
Allscripts
AmazingCharts
athenaHealth
Epic Systems
GE Healthcare
Greenway Medical
Praxis
Quality Systems/NextGen
Quest/MedPlus
SUI Medical Mastermind
Vitera
The most satisfied current clients by physician specialty expecting the least upheaval include:
Internal Medicine
Family/General Practice
Pediatrics
Oncology & Hematology
OB/GYN
Geriatrics
General Surgery
The least satisfied physician specialties, expecting the most vendor switching in 2013 include:
Nephrology
Urology
Ophthalmology
Gastroenterology
Orthopedics
Allergy & Immunology
ENT
Radiology
Features that were on EHR buyer wish lists three years ago are typically considered as basic system features now, according to those surveyed. First system implementations were decided on "must haves" of (in order): Document Management/Scanning/Storage, Electronic Prescribing, Order Management, Implementation Support, System Cost, and Alerts.
With these basic EHR fundamentals met, experienced users now seek innovative vendors who meet the compounding demands of practices, according to 2013 Black Book responses.
Black Book polled users who speculated they would switch EHR systems were asked:
What are the top ten criteria you consider "must haves" in 2013 beyond basic EHR functionality as part of your EHR replacement evaluation? (in priority order)
84% Vendor Viability
83% Provider Data Integration and Network Data Sharing
78% Demonstrable Return on Investment and Clinical Improvements
75% Adoption of Mobile Devices including IPAD, IPHONE, Android and Tablets
66% HIE Support, Connectivity/Interoperability
65% Perfected interfaces with Lab, Pharmacy, Radiology, Rehabilitation, Post Acute Care
65% Perfected interfaces with Medical Billing partners/outsourcers and Revenue Cycle
59% System financing assistance
58% Patient Portal
54% Customized Workflow Management
53% Role-based Security
50% Enhanced Data Security, HIPAA Compliance and Patient Privacy Measures
42% Sharing Billing and Financial Data between disparate systems
36% Expert Coding
35% Practice Management expertise
32% Support evolving Accountable Care demands
31% Automated Patient Outreach
26% Clinical Analytics
23% Higher Specialty Usability
23% Decision support and population management
20% Internal messaging
20% Online managed care/insurance eligibility and terms
17% Customizable templates
12% EHR Mobility Applications and IOS Support