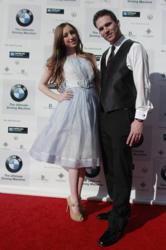 Los Angeles, California (PRWEB) March 05, 2013
BMW of North America, L'Etoile Sport & Frey Wille sponsored an event On February 21, 2013, in celebration of women in Hollywood with a breakfast and Pre- Oscar beauty gala.
Actress Hope Olaide Wilson, who earned critical praise for her performance in Lionsgate feature film I Can Do Bad All By Myself, attended as a key note speaker spreading awareness about Half The Sky Movement and her charity Local Literati. Hope said "I am quite fond of Half The Sky Movement and have been following their activities for quite a while as their efforts correlate with the work I do for the Local Literati project to promote global literacy as an issue that disproportionately effects women".
Staci Shroeder and Jax Taylor along with actresses Davetta Sherwood, Beth Payne, Sons Of Anarchy, Liz Femi, Secret Life Of Bees, Napoleon Dynamite, La'Princess Jackson and Hustle & Flow Comedian & actress Paula Jai Parker attended.
"These amazing people took time off from their busy work schedules to support Half The Sky Movement and to create awareness about women's global issues "said Judith Connolly President/ CEO The Doll Network.
Guests enjoyed BMW test drives, spa services provided by Hollywood Beauty Expert Rashel Pouri and her spa services team, beauty services by a variety of sponsors including: Swank Nail Lounge, Presented by Cosi Fan Tutti, Brow Services by Billion Dollar Brows, OPI launches Mariah Carey Nail Polish collection, Eyelashes By Melanie Mar, Perfume Bar by Hayari Parfums of Paris, Makeup lounges by Soreme Cosmetics, Hair by Brambila Salon and mascara by Fairydrops.
Community Ambassador, Crystal Wortman, offered an informative Half The Sky Movement Global Public Awareness Screening in the afternoon. A silent auction presented by our sponsors and benefitting Half the Sky was part of the celebration.
The estate was lightly veiled throughout in scenting creations by Votivo which provided a lovely background for the entire event while guests sampled fragrance from their candle bar. Guests enjoyed drinks by Dama Tequila and wines by Clos Du Bois, Kim Crawford and Ruffino. The finest port wine in the world was served by Premium Port imported by Symington Family Estates of Portugal. Trunk shows were provided by Freywille, L'Etoile Sport and Mayfair House. Exhibitions of Warhol "Lost & Found" by photographer Karen Bystedt and the vintage couture tribute to studio 54 by Keni Valenti Gallery graced the entrance hall of the mansion.
Contact: Judith Connolly (310) 696-9758
info(at)thedollnetwork(dot)com