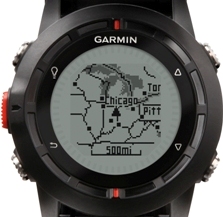 It's the best GPS watch ever for navigation and its fitness features, as well as ruggedness, make it great for military use
Bozeman, MT (PRWEB) March 05, 2013
Garmin fenix, the ultimate fitness and navigation GPS watch combination is back in stock with improved water resistance at the Heart Rate Watch Company and all US Military members get 10% off. Simply call 866-586-7129 to get your coupon code with military ID.
"This is the best military GPS watch we have ever tested and our chief tester John Yarington is using one right now on a several week back country trip in Kyrgyzstan", says Rusty Squire, President of the Heart Rate Watch Company. He adds, "It's the best GPS watch ever for navigation and its fitness features, as well as ruggedness, make it great for military use".
TRACK BACK NO MATTER WHAT THE VISIBILITY OR WEATHER
Garmin fenix offers up to 1,000 way points, which is ten times the number offered by the Suunto Ambit, so for navigation purposes, especially over a prolonged route, this can make a tremendous difference according to Squire. "Anytime you travel more than 20 miles and have lots of turns, jogs and directional changes you need to mark a way point to have accurate return maps, unless you like crossing ravines and rivers", says Squire.
While fenix had some initial production issues with units that were not water tight a new production batch arrived in early March that has solved this issue. "Garmin fenix is now available again and we are happy because it was a tough product to not have in stock for 6 weeks, people like it", says Squire. He adds, "Especially those it the military, hunters and back country travel folks".
MILITARY DISCOUNT
Both active and retired members of any branch of the US military, along with firefighters, just need to contact them at 866-586-7129, or e-mail the company at support(at)heartratewatchcompany(dot)com and we will provide a coupon code to receive the discount.
GET GOING
"We've tested these watches extensively and there are truly no watches that do what the Garmin fenix and Suunto Ambit do", says Squire. He adds, "Their firmware has evolved rapidly which is nice to see because the watch is a work in progress, constantly evolving".