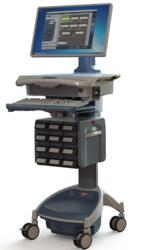 "Metro AccessPoint offers the advanced technology, flexible integration options and fast fleet deployment that facilities are demanding to manage the rapid changes in healthcare IT and to meet the evolving meaningful use mandates" - Rob Sobie
New Orleans, LA (PRWEB) March 04, 2013
Metro, a world leader in providing technology, storage and transport solutions for healthcare facilities, today introduced its Metro AccessPoint™ mobile computing system at the HIMSS13 Annual Conference and Exhibition. This all-new next generation mobile computing solution features advanced ergonomic design, integrated medication tracking and support, and industry-leading configurability and integration to ensure long-term support for evolving technology demands.
Building on the company's broad, industry-leading line-up of mobile workstations, Metro AccessPoint is the first product of the Metro Access™ platform, an integrated hardware and software system that delivers unified information, medication and supply access across all leading automated dispensing cabinets.
"Metro AccessPoint offers the advanced technology, flexible integration options and fast fleet deployment that facilities are demanding to manage the rapid changes in healthcare IT and to meet the evolving meaningful use mandates," said Rob Sobie, vice president of healthcare marketing at Metro. "As part of the Metro Access platform, our newest mobile computing workstation gives facilities a powerful tool for improving efficiency and reducing cost while progressing through the HIMSS EMR adoption model."
The Metro AccessPoint system will be featured at the Metro exhibit (booth 6312) at HIMSS13, along with Metro Access platform. The Metro AccessPoint Rx, ideal for supporting closed-loop medication management required at Stage 5 of the HIMSS EMR adoption model, will also be featured in at the Intelligent Hospital™ Pavilion at HIMSS13.
Offering an array of new and improved ergonomic features and an unmatched user experience, Metro AccessPoint is designed from the ground up for caregiver comfort and convenience and IT flexibility. The fully adjustable display offers a comfortable viewing position for all users – even those using bifocals, while flexible keypad controller options provides easy access to battery level, battery charging, LED task lighting and electronic lift controls. Ergonomic push handles enhance maneuverability and the workstation offers multiple mounting points to accommodate a wide range of accessories.
Metro's new design also supports advanced medication management. Through the Metro Access platform, the expanded capacity workstation integrates medication tracking and transport while communicating seamlessly with automated dispensing cabinets from Metro and other leading vendors. Sharing data with the automated dispensing cabinets eliminates the need for duplicate data entry, which saves time and reduces the potential for errors. As a result, clinicians can stock their workstations quickly and spend more time with patients.
The system's scalable, modular design ensures easy service and the innovative universal tech tray expands to adapt to future technology upgrades. Metro's Wake-on-LAN/Wake-on-Power integration allows caregivers to power the computer on and off without IT involvement.
Advanced, integrated and upgradable power system includes fan-cooled and fanless charging options along with a variety of chemistries to fit area specific needs and diverse budget needs. Metro's next-generation LiFePO4 and Li-Nano provide extended runtimes while swappable power solutions from Anton/Bauer provide continuous 24/7 runtime.
For more information on the Metro AccessPoint and Metro's diverse breadth of healthcare solutions, visit http://www.metro.com.
# # #
About InterMetro
For more than 80 years, InterMetro has been the world's leading manufacturer of technology, storage and transport solutions in healthcare, food service, commercial and consumer products. Committed to understanding the needs of customers and channel partners, Metro provides complete solutions that optimize space, improve workflow and ensure overall safety. InterMetro is a business of Emerson. For more information, visit http://www.metro.com.
About Emerson
Emerson (NYSE: EMR), based in St. Louis, Missouri (USA), is a global leader in bringing technology and engineering together to provide innovative solutions for customers in industrial, commercial, and consumer markets around the world. The company is comprised of five business segments: Process Management, Industrial Automation, Network Power, Climate Technologies, and Commercial & Residential Solutions. Sales in fiscal 2012 were $24.4 billion. For more information, visit http://www.Emerson.com.