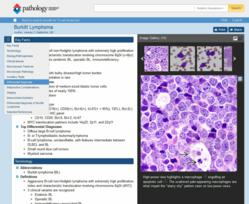 During USCAP, Amirsys unveils the Pathology Reference Center, a diagnostic pathology reference for the whole institution.
Salt Lake City, Utah (PRWEB) March 05, 2013
Amirsys today showcases three pathology products at the 2013 United States and Canadian Academy of Pathology conference. Offerings include the well-known ImmunoQuery, the award-winning Diagnostic Pathology book collection, and the new Pathology Reference Center.
ImmunoQuery is the definitive expert and evidence-based decision support system for immunohistochemistry (IHC). The data-driven system, backed by over 1,000,000 cases from nearly 5,000 journal references, helps pathologists determine which antibodies will confirm a diagnosis. Pathologists can also use Amirsys ImmunoQuery to discover other diagnoses that should be considered during the diagnosis process.
The Amirsys Publishing Diagnostic Pathology book collection guides pathologists through complex information to discover a diagnosis. The books and ebooks are written by world-renowned pathologists and feature the hallmarks of the award-winning publications from Amirsys: time-saving, bulleted text; stunning images; vivid medical illustrations; quick-reference tables; and Key Facts boxes. Each book in this collection provides a comprehensive, diagnosis-based resource perfect for general pathologists to sub-specialists.
During USCAP, Amirsys will also unveil the Pathology Reference Center for the first time. The Amirsys Pathology Reference Center is a comprehensive, image-rich pathology reference with summary-level detail and pathology recommendations. The Pathology Reference Center includes information about diagnoses in all areas of diagnostic pathology. The abundance of images include gross pathology, hematoxylin and eosin (H&E) stains, immunohistochemistry (IHC) stains, correlative images, and colored graphics. The diagnosis topics are written by pathology experts and supported by thousands of journal references. Pathology Reference Center is appropriate for a broad range of medical professionals, including pathologists, referring physicians, hospital staff, and nurses.
For more information about Amirsys pathology solutions, visit http://www.amirsys.com.
ABOUT AMIRSYS
Amirsys, Inc. is a leading provider of innovative healthcare information solutions in radiology, pathology, and anatomy. Our unique combination of proprietary technology and image-intensive, evidence-based content provide online problem-solving solutions and reference books to thousands of physicians and health professionals worldwide.