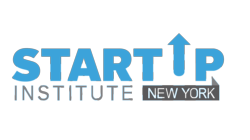 In order to scale beyond a handful of employees, startups need a certain type of employee in every area of the business, not just engineering
Manhattan, New York (PRWEB) March 04, 2013
Today, Startup Institute, formerly known as Boston Startup School, announced the building of Startup Institute New York. Startup Institute launched a year ago in response to a significant obstacle Boston startups were facing when looking to hire highly effective talent that can be immediately productive on day one. "In order to scale beyond a handful of employees, startups need a certain type of employee in every area of the business, not just engineering," said Katie Rae, Co-Founder and Chairman of Startup Institute and Managing Director of TechStars Boston.
Startup Institute offers an eight-week program where students are trained for startup combat. Students go through one of four different tracks - web development, product & design, marketing, or sales & business development - but everyone learns the soft skills of how to excel in a startup environment. Emotional intelligence, team dynamics, a growth mentality, and a "get it done" attitude are core to the program's curriculum.
94% of graduates from Startup Institute Boston have accepted a job at a startup. Much of this success is a result of the community-driven component of the program. All classes are taught by entrepreneurs and professionals from the tech community who believe in the benefit it brings to startups in the area, including their own. This allows students to develop strong relationships with the instructors and gives employers the opportunity to see how the students might perform on the job. Startup Institute has helped over 80 companies with their recruiting needs. Several of the school's graduates have been hired by New York startups including Lot18 and CrowdTap. "Lot's of startups in New York have reached out to us with the same problem around finding people who understand how to make an immediate impact on day 1," said Aaron O'Hearn, CEO and Co-Founder of Startup Institute. "We couldn't be more excited to answer that call and build Startup Institute New York from the ground up with the help of NYC's community."
"We're excited for the talent coming out of Startup Institute," said Sara Wajnberg, Director of Product at Lot18. "Having hired an alum already, I can attest that their graduates are equipped to make an immediate impact at a company like ours."
The company recently brought on Christina Wallace, NY entrepreneur and previous founding CEO of Quincy, to lead the charge as Director of Startup Institute New York. "We're creating an opportunity for the best entrepreneurs and professionals from NYC's startup community to teach a highly curated group of passionate students who want to work for a startup," said Wallace. "I'm thrilled to be building this much needed school in one of the greatest cities in the world."
Startup Institute is now accepting applications for New York's Summer session, which begins June 10th.
About Startup Institute
Startup Institute is an industry-driven education company with full-time schools located in Boston and New York that train individuals across all disciplines to be high-impact startup employees from day one. The company also offers a part-time hybrid program called RampUp, geared towards professionals learning to code. Founded in 2012 by Aaron O'Hearn, Shaun Johnson, Katie Rae, and Reed Sturtevant out of TechStars Boston, Startup Institute aims to solve the challenge that startups are facing in recruiting, training, and retaining talent by coupling professional education with a curriculum that reflects the needs of high-growth technology companies.