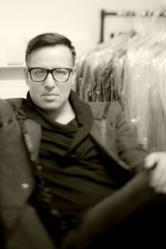 New York, New York (PRWEB) March 03, 2013
London designer, Fhernando Yaakuv Colunga has asked Melissa Shea of FashionMingle.net to join him in a Google+ Hangout with Fashion Mexico on Monday, March 4. The designer will share his insights into creating the successful fashion brand COLUNGA London, from how to choose quality fabrics, create impeccable designs and the importance of attention to detail.
Melissa Shea, Creative Director of FashionMingle.net, a PR platform that helps promote fashion industry entrepreneurs, will share tips on creating a buzz around your fashion brand through a successful social media campaign and growing a strong internet presence.
Mexican-born designer and COLUNGA London Creative Director, Fhernando Colunga, was once himself an aspiring young designer finding inspiration in magazines and book stores on the streets of New York City where his family lived for many years. His journey as a designer began with training in Milan at the Istituto Europeo di Design and the London College of Fashion. Under the mentorship of Brian Harris, a professor at Central St. Martins in London, who has instructed fashion design icons such as Stella McCartney and the late Alexander McQueen, Colunga started as a menswear label in 2007.
After permanently locating in London in 2010, Colunga has become an internationally acclaimed luxury brand specializing in bespoke womenswear designs for private clients that have graced the red carpet and even been worn by a member of the British Royal Family.
With successful fashion shows debuting his collections in the United States and Paris, Colunga has been celebrated with magazine spreads across world extolling the originality, immaculate quality, and attention to detail of his work.
As one of the 20 designers featured by the Google+ Community, Fashion Mexico, those who wish for a career in fashion will be able to engage with the featured designers and industry experts to get insights into building a fashion brand and becoming successful in the fashion industry.
The Google+ Hangout featuring Fhernando Colunga and Melissa Shea will be Monday, March 4 on the Fashion Mexico Google+ page and is the second season that the online platform has used fashion and technology to encourage aspiring designers to embrace a career in fashion.
With Google gaining ground it their efforts to connect social media activity to search engine results, Shea recommends that fashion brands begin building their Google+ presence and using Google's tools to promote their web site and connect social media platforms. While small fashion businesses often are challenged by time to devote to building a social media presence, Shea coincides that even she finds it difficult to find enough time in the day to focus on social media profiles. "The day to day challenges of building a fashion business too often gets in the way of a consistent social media effort." Shea says.
Shea recommends a mix of automated tools such as Hootsuite and RSS Graffiti to distribute your web site's content across the web and then taking 30 minutes in the morning, early afternoon, and before you end the day to log onto your social media profiles to respond to questions, acknowledge interactions, and participate in the online conversation.
While having a strong social media presence is paramount in today's business environment, it's also important to budget for a marketing strategy that includes press releases, media contact, and creating an engaging website that is search engine optimized.
The FashionMingle.net PR platform is a new concept that seeks to provide fashion entrepreneurs with the ability to promote their products and services using technology and applications that will distribute their content across connected social media accounts, email marketing, and search engine optimized web content.