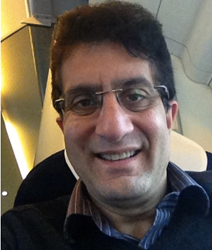 I am thrilled and honoured to be working with the Faculty of General Practice at the Royal College of Surgeons once again
(PRWEB) March 04, 2013
Tariq Drabu dentist and the owner of Langley Dental Practice has announced that he has again been selected as a tutor on the Faculty of General Practice Certificate in Minor Oral Surgery course at the Royal College of Surgeons of England in London. This will be the second year in a row that he has been selected as a tutor on this prestigious course. Tariq Drabu is a specialist in oral surgery and the clinical lead for the NHS Heywood Middleton and Rochdale CATS scheme which is an innovative, pioneering referral based scheme designed to bring specialist oral and dental surgical care closer to communities in Middleton, Heywood and Rochdale in Greater Manchester. He is recognised as having a passionate commitment to dental postgraduate education having been a trainer for vocational trainees (new dental graduates) between 2005 and 2009. In 2007 Tariq Drabu was nominated for an award at the Dental Defence Union Trainer of the Year Awards. Between 2001and 2006 he was postgraduate dental tutor for Manchester, responsible for arranging postgraduate teaching and training courses for dentists on the Manchester area. He is currently the specialist oral surgery lead at the UCLan Dental Clinic at the University of Central Lancashire (UCLan) in Preston, where he is involved with the clinical training of postgraduate dentists in oral surgery in the UCLan masters programmes.
Speaking about his appointment as a tutor to the Faculty of General Dental Practice Certificate in Minor Oral Surgery Course Tariq Drabu said "I am thrilled and honoured to be working with the Faculty of General Practice at the Royal College of Surgeons once again. The certificate course in oral surgery is a superb hands on way for general dental practitioners to increase their confidence and experience in minor oral surgery. The fundamental aim of this course is to provide the dentists with an opportunity to complete multiple "hands on" oral surgery cases supervised by a specialist oral surgeon within a primary care setting or specialist minor oral surgery clinic. The theoretical part is delivered at the Royal College in London and the practical sessions are delivered regionally by tutors. Last year after a competitive selection process I was delighted to be selected as a tutor and I am even more thrilled to be selected again as a tutor for the new cohort of dentists who have commenced this month on this year long course."
Tariq Drabu continued "we need to ensure that general dentists are given enough training to allow them to confidently complete minor oral surgery procedures in practice. It is not just completing the cases that is important - it is the ability to assess what they can and cannot manage in terms of treatment that also determines their competence and ability. Knowing ones limitations is an important part of being a caring, competent and reflective practitioner. Whilst many dentists put themselves forward to study implant based hands on courses many of them are not confident in soft and hard tissue management including extractions and surgical removal of roots. There aren't many courses out there that provide the chance for the busy general dental practitioner to gain experience in carrying out hands on minor oral surgery in practice whilst still being able to continue to work."
Tariq Drabu added "the surgical removal of teeth has been identified as one of the areas that newly qualified dentists feel least prepared for after their university training has been completed. Unfortunately the effect of this is that many minor oral surgery cases which could be seen in practice are referred to hospital secondary care facilities which takes away valuable recourses that perhaps could have been treated in the primary care sector. The course lasts for one year and the candidates have to complete a specified number of cases under the supervision of their tutor and also a certain number of cases in their own practice."
Tariq Drabu concluded "the Faculty of General Dental Practice at the Royal College of Surgeons is a very prestigious organisation. It was formed over 20 years ago as the academic home for general dental practitioners and aims to improve the standard of care delivered to patients through standard setting, postgraduate training and assessment, education and research. To be working with such an auspicious body on one of their courses is indeed an honour."