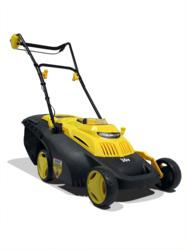 The Lithium Powered Recharge Mower ULTRALITE gets the job done with No Emissions and No Gas
Carson, CA (PRWEB) March 05, 2013
The New Recharge Mower ULTRALITE Lithium Powered Cordless Mower from Driven by Solar means no more gas. The ULTRALITE weighs only 35 lbs. and is powered by a Lithium battery. This battery offers over 900 charge cycles, weighs under 4 lbs. and can be charged both in or out of the mower for more convenience.
"Mowing your lawn should be easy, clean and quick", says company President Allan Hechtman. "The Lithium Powered Recharge Mower ULTRALITE gets the job done with No Emissions and No Gas."
The ULTRALITE Lithium Powered Recharge Mower has a fully moulded body that will not rust or dent and provides a 15" cutting path. The cutting height is easily adjusted to 6 increments using only 1 handle. The ULTRALITE design, allows this lawnmower to be easily moved even into tight spaces. Since the Lithium Powered Recharge Mower is battery operated, there is NO gas, NO oil and NO fumes. Simply plug the battery pack into the Energy Star rated Smart Charger and in only a few hours you're ready to go again.
The mower includes both a rear position grass catcher and a mulching insert for perfect manicured results. The ULTRALITE sets up in under a minute with No Tools Required. The ULTRALITE can easily be transported or folded down for compact storage without worrying about fumes or spilling nasty fuel.
More details and videos of the Recharge Mower ULTRALITE Lithium Powered Cordless Mower are available by visiting the company website at http://www.RechargeMower.com. The ULTRALITE can also be found through a host of leading online retailers.
Driven By Solar Inc., the company behind the Recharge Mower and Recharge Tools brands and registered trademarks, was established in early 2008. The company is focused on developing, producing and marketing a growing selection of environmentally friendly lawn and garden tools. The company can be reached at Info(at)rechargemower(dot)com or by calling 905-997-9300. The company credo… "A greener lawn. A greener planet." remains well entrenched.