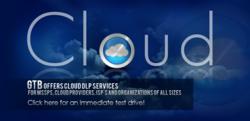 Keywords, Meta Data Tags, or any other imprecise detection method is just not DLP... GTB is the ONLY DLP solution which has the ability to support the fingerprinting of Multi-Terra Bytes of data & hundreds of millions of DB recs.
Newport Beach, California (PRWEB) March 05, 2013
Having again been named a Visionary in the latest Gartner Magic Quadrant for Content Aware Data Loss Prevention; GTB Technologies announced today that its' DLP as a Service is available for Enterprises & Organizations of all sizes who are looking to control & protect their Cloud Application Data.
Taking the bar for True Data Protection & Intelligence into the Stratosphere with AccuMatch:
"We're bringing GTB's advanced fingerprinting & partial file match detection technology, AccuMatch, into the Cloud and onto Virtualization Platforms," says Wendy Cohen, GTB's COO.
"Experience has shown that fingerprinting data, the most precise detection method, is the only way to a successful DLP program. By DLP, I mean Data Loss Prevention as opposed to Data Loss Detection (DLD). You see, any slight amount of false positives and you'll never move into DLP Enforcement. Keywords, Meta Data Tags, regular expressions or any other imprecise detection method is just not DLP."
"GTB is the ONLY DLP solution which has the ability to support the fingerprinting of Multi-Terra Bytes of data & hundreds of millions of Database records without Network Degradation. Our customers move to enforcement (prevent) mode very quickly," said Cohen.
Encryption of Data without Inspection is a mistake, Data Protection must be based on Content & Context:
Protecting data by selective encryption of specific file types or protected content is the correct, most effective way to protect sensitive data. Blanket encryption of data leads to sensitive data extrusion, by both trusted and untrusted users. GTB's DLP as a Service takes control and encrypts based on policy, not only providing compliance but also providing an historical trail."
Salesforce, Chatter, Box, Dropbox, Office 365, Gmail, Google Docs, Google Drive, Google+, Google Apps, Databases, AWS, you name it - it's covered ... with one service, one price!
With GTB's DLP as a Service, enterprises can now take control of their cloud application data & control the Bring your own Cloud (BYOC) problem, at a fraction of the cost of any other system.
GTB's DLP Cloud Advantages:

Fingerprint your data - no need for inaccurate, imprecise pattern matching, regular expressions, data dictionaries, Meta-data, tagging, etc!
Support Multi-Terra bytes of data & hundreds of millions of Database record without Network Degradation
Partial File-Match (the key to Intellectual Property protection)
Lowest TCO
Fastest time to Value - just point and click
Blocking of sensitive data
Data Governance
Affordable for even the smallest of organizations
No hardware / software to buy or maintain
Easy to implement & use, without disruption or complexity
Easy to scale
Reduce bandwidth costs
Carrier Grade Data Center & Security
Web, Email & Mobile Security
Real-time enforcement & reporting
Forensic Analysis
Security Services are customized to meet each customers' unique requirements
About GTB Technologies Inc.:
With offices worldwide, GTB Technologies Inc. has re-invented the enterprise extrusion / data loss prevention marketplace; bringing a broad set of influential innovations such as solving the known market limitation of false positives & BYOC ("Bring your own Cloud") Problem. GTB customers' include enterprises across the Global 1000 in sectors such as financial services, healthcare, defense contractors, power and energy, telecommunications, retail, and high-tech, as well as government agencies around the world in defense, homeland security, law enforcement, and intelligence.
GTB's Flagship product, the GTB Inspector, a content-aware reverse firewall TM, provides port-independent inspection covering all 65,535 ports. This technologically unsurpassed platform - provides accurate visibility and control over all content and applications in use, on the network (inbound and outbound), in real time.
Among the main features are support for additional protocols that will help Enterprises protect data from being copied out to the Cloud (the BYOC problem):

Secure RDP & VNC filters for full cloud protection
WBXML (MS Exchange active-synch) support for detecting emails from Exchange to smart devices
IMAP protocol filter
NNTP protocol filter
SNMP support
Plus

Full support for fingerprinting and protecting Salesforce data
CEF implementation for full ArcSight SIEM integration
Support for additional pre-defined International Privacy Policies
GTB's Inspector cloud enabled platform, Inspector Cloud TM, is also available to MSSPs, ISP and other organizations looking to offer DLP SaaS.
GTB Technologies state-of-the-art, content-aware Data Loss Prevention/Extrusion Prevention platform, highlights the detection & protection of intellectual property such as source code, classified information, design documents or any sensitive data. GTB's Data Leak Platform provides an enterprise the ability to prevent unauthorized data extrusion from the organization; the most difficult data to detect & protect and is usually the target of unknown APT attacks.
Enterprises with Data Loss Prevention initiatives whom have an interest in evaluating the GTB DLP/Extrusion Prevention suite can sign up for a free 30 day evaluation at http://www.gtbtechnologies.com/support_evaluation_dlp_downloads.asp.
The "Goof Proof Guide to Data Loss Prevention", "Putting the ' P' back into DLP", "Reverse Content-Aware Firewall", "AccuMatch", and "GTB Inspector", "Inspector Cloud, "Taking the 'P' into the Stratosphere" are trademarks or registered trademarks of GTB Technologies, Inc., in the United States and/or in other countries. All other brands, products, or service names are or may be trademarks or service marks of, and are used to identify products or services and are the property, of their respective owners and no affiliation with or endorsement, sponsorship or support is implied.
Copyright 2005 - 2013 GTB Technologies, Inc. All Rights Reserved.