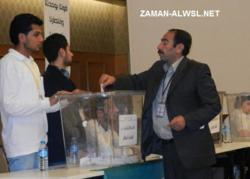 Washington, DC (PRWEB) March 04, 2013
The Syrian Expatriates Organization (SEO) commends the Syrian people for organizing democratic elections to elect representatives for the Aleppo and Deir Ezzor provinces. SEO views this as an important and encouraging step towards the establishment of a new democratic Syria.
Despite aerial bombardment and shelling, Syrians made the journey across the Turkish border to Gaziantep on March 2 2013 to vote in free elections for the city of Aleppo. The elections were moved to Turkey because of the security situation inside Syria. 29 provincial council-members were elected by 240 electoral commission members.
SEE: Assad Opponents Vote For Provincial Council Members http://www.naharnet.com/stories/en/74141-assad-opponents-vote-for-aleppo-provincial-council
In Deir Ezzor, another city under severe attack by the Assad regime, citizens gathered on February 26 to cast their votes and elect 5 local council representatives.
SEE: Local Elections in Syria's Rebel-Held Deir Ezzor http://www.naharnet.com/stories/en/73344-local-elections-in-syria-s-rebel-held-deir-ezzor-despite-bombardment
"We are proud of our brothers and sisters in Syria for organizing and executing these free elections, regardless of the dangers facing them," said SEO Board Member Iyad Azrak. "We view this as a significant step and important exercise towards the formation of a democratic process in a new free Syria. The Syrian people have fought and died for the right to have their voices heard and live in dignity and freedom. These elections have shown the world that the Syrian people are tenacious and serious when it comes to establishing a state based on fundamental democratic principals, " said Azrak. "We commend them for their bravery, and support them on their road to a better and brighter future."