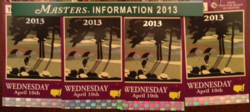 Augusta, Georgia (PRWEB) March 03, 2013
Honda Classic 2013
With Tiger Woods giving a performance that one may say was not up to par; with the number one ranked player in the world Rory McIlroy leaving the tournament early in the second round, the Honda Classic lacked potential. Or did it? Bearing the tight fairways and high winds of this year's Honda Classic was Michael Thompson. This weekend was Thompson's first career title win in his 61st start. The final round of the tournament came down to Thompson and Geoff Ogilvy of Australia. In winning the tournament, Thompson was one of only 5 of the 75 players to break par and his 1-under-par 69 gave him a 271 total, two shots better than Ogilvy.
Thompson earned separation from the field with an eagle from 50 feet on the third hole and kept his opponents away with two more birdies and deft par saves on a day when the field averaged 73.70 strokes. "I just stuck to my game plan this week, which was to find it in the dirt," said Thompson, 27. "This week was magical. I kept finding it and believing it." With the win, Thompson secures his spot at Augusta, while Ogilvy gets a great jump in the world ranking, but is going to have to keep fighting for a definite spot in The Masters Golf Tournament.
As for Tiger and McIlroy, this weekend was not their best. For the second straight day, Woods had lost his ball, and added later that he does not think he has ever had two lost ball stroke-and-distance penalties in the same tournament. He also hit two balls into the water on the back nine.
Tiger didn't drive the ball very well this week, and only had two back-to-back birdies, which is very unlike him. To continue, McIlroy had walked off the course and withdrew from the tournament after hitting his second shot into the water on the 18th hole. He initially said he was not in a good place mentally; then, also admitted that he was in severe pain from his wisdom teeth. McIlroy later gave his sincerest apologies to the Honda Classic for his sudden withdrawal.
Are you ready for The Masters Golf Tournament? As of Saturday March 2nd, Masters Tickets lottery winners started to receive their tickets in the mail. The tickets are not replaceable if lost so if you did receive them make sure to place them somewhere safe. The ticket application process for the 2013 Masters Tournament concluded in June 2012. Masters Tickets are still available through http://www.MastersTickets.co, visit our site today!
The highly-regarded entertainment ticket marketplace, Inside Track Tickets, has launched http://www.MastersTickets.co, its newest ticket retail site featuring one of the largest supplies of tickets and hospitality packages to the 2013 Masters Golf Tournament in Augusta, Georgia. Available tickets include Masters Practice round badges, Wednesday's traditional Par 3 competition, and Masters Tournament tickets from Thursday through Championship Sunday. Not only can fans purchase the nearly impossible to find Masters tickets and hospitality packages for great prices, but they can also share their experience with friends and fans by participating in an interactive fan hub and social media experience showcasing an active Masters golf blog at http://masterstickets.tumblr.com that features The Masters Live updates, a Masters Leaderboard 2013, and a Masters Live Stream with video, news, and other constant updates on the golf tournament. http://www.MastersTickets.co helps fans plan out their agenda by using the Masters Schedule 2013 and the Masters Golf Tournament course map.