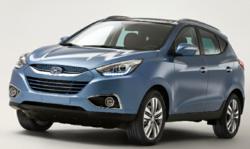 (PRWEB) March 04, 2013
Hyundai has released the first image of the New ix35, ahead of its world premiere at the 2013 Geneva Motor Show. The new model will take the stage three years after the launch of the original ix35 small SUV, and features a wide range of technological and efficiency enhancements.
New ix35 – a true 'made for Europe' model – receives an enhanced powertrain line-up, including a new European-developed gasoline engine, the 'Nu' 2,0-litre GDI (Gasoline Direct Injection), that offers more power yet greater economy than the 'Theta-II' 2,0-litre engine it replaces. The 'R' diesel engine receives clean technology, such as LP-EGR (low-pressure exhaust gas recirculation).
To further improve the European-tuned ride and handling characteristics, the New ix35 benefits from Hyundai's three-mode FLEX STEER driving system. Drivers can choose from Normal, Comfort and Sport modes to tailor levels of feedback and the overall driving experience.
Bi-Xenon headlamps and a TFT Supervision cluster offer greater clarity to the driver, while the interior receives a host of material upgrades to improve quality, along with some detail enhancements to trim.
Senior Vice President and COO of Hyundai Motor Europe, Allan Rushforth, commented, "The New ix35 is an important model for Hyundai in Europe. With the original car being so popular across the region, it was important for us to ensure that the upgrades would maintain this popularity. The styling, dynamic and technical upgrades to the New ix35 ensure that the car retains the character which has made it such a success whilst offering customers an even more emotive purchase choice.
"The ix35 was an important model for Hyundai. With eye-catching fluidic sculpture form and European quality, it helped change perceptions of the Hyundai range in the region. The New ix35, with its enhanced powertrain line-up, interior refinements and sharper styling will appeal to a broad range of buyers in Europe."
The ix35 became the fastest-selling model in the brand's European history and remains hugely popular with buyers – selling more than 87.000 units in 2012. It was the first model to present Hyundai's 'fluidic sculpture' form language and retains the now-familiar styling, including the company's trademark hexagonal front grille. The model was designed and developed at the Hyundai Motor Europe Technical Centre in Rüsselsheim, Germany, and produced at the brand's production facility in Nošovice, Czech Republic.
The New ix35 launch timing and specifications for the Australian market are yet to be confirmed.