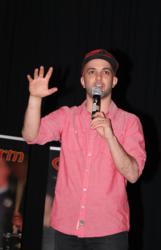 If you want to make a huge difference in your young persons world and equip and empower them to become all that they can be use these 10 phrases every day - Nathan Hulls
(PRWEB) March 05, 2013
According to Teen Behavior Expert and Youth Motivational Speaker, Nathan Hulls, the words we speak over our kids are some of the most powerful influencing factors in developing their self esteem, self belief and personal power. He is living proof of this, being born with a disability, his father had a feeling that he would need a little extra belief in himself to overcome some of the hurdles he would face.
As a baby, Nathan's father would sit Nathan on his knee and whisper into his ear:
"You can do whatever you choose, You can be whoever you choose, You are awesome!"
Having those words embedded in his subconscious Nathan grew up with the belief that he could in fact do anything he chose – starting his first business at just 12 years old, developing school based seminars and presentations at just 18 years old, running a political campaign at just 23 and again at 25, Nathan is a walking example of the power of what parents say to their kids.
In his article "10 Things Extraordinary Parents Say To Their Kids" Nathan outlines 10 basic, yet powerful phrases parents can use to engage and empower their children, develop self belief and self esteem and position themselves as trusted authority figures in the mind of their children.
These 10 things are extremely simple, but so extraordinarily powerful in the setting of supporting and nurturing your children as they grow. If you want to make a huge difference in your young person's world and equip and empower them to become all that they can be use these 10 phrases every day.
In a world where young people are starving for encouragement and hope, parents must become the primary source of their childrens empowerment.
Here's what one young person said after attending one of Nathan's presentations:
"Hey Nathan! I was at the Decide Your Own Destiny presentation at Belmont High… and I wanted to say thanks for letting me know what true success is! I always thought of success in the future as money, power, a hot husband and a big house. I never picture myself being successful in life but when you gave a more true definition of success it really changed my negative view of the future into a more positive one. Thank you so much!"
CLICK HERE to read the full article >> 10 Things Extraordinary Parents Say To Their Kids
Nathan Hulls
Teen Behavior Expert, Motivational Speaker and Success Coach
Speaking Enquiries + Media Interviews (radio, television, print) - http://www.NathanHulls.com