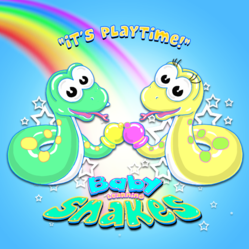 We're ecstatic to offer our fans this classic game update with 'Baby Snakes Learning', introducing a whole new cast of super cute and lovable baby snake characters. - Eric Prince
Copenhagen, Denmark (PRWEB) March 05, 2013
FUNDAR, an interactive game studio that brings 'all ages fun and casual educational games' to market, today announced that 'Baby Snakes Learning (LE)' is now shipping on Apple iTunes store. 'Baby Snakes Learning (LE)' is the long anticipated follow up casual game to Snake and Snake Mayhem, two of the first-generation classic mobile games that started the whole mobile game era. A 'Snake meets-Muppet Babies ' adventure game, 'Baby Snakes Learning (LE)' offers familiar game play and new educational spelling and math puzzle challenges for today's smartphone and tablet casual gaming market.
'Baby Snakes Learning (LE)' is available now for US $1.99 on the Apple iTunes App Store > Games > Eric Prince. A free light version is expected to be available on the iTunes App Store March 9th 2013. An Android version is expected to be available for the March 11th SXSW Interactive / WIGI launch party.
Baby Snakes Learning (LE) Release Party with WIGI at SXSW 2013
Fundar Games and the Women in Games International (WIGI) are co-sponsoring the Baby Snakes Release at SXSWI 2013 in Austin, Texas. The party will be held at 'Gray Gardens" in Austin Texas, on Monday, March 11th, 6:45pm. This party is invitation only. To join the event, visit the Facebook Page or contact Eric Prince at eric(at)fundar(dot)dk for a party invitation.
About 'Baby Snakes Learning (LE)'
'Baby Snakes Learnig (LE)' introduces a character-based puzzle story adventure with an appealing, all-ages baby theme for most smartphone and touch devices (iPhone, Android, select Tablets). Players choose from four adorable 'Baby Snakes', boy or girl, with different power capabilities that can help make the difficulty easier for beginners (toddlers) or harder for "snake" veterans. Controlling 'Baby Snakes' through animated levels is as easy as pointing with one finger. As the 'Baby Snakes' grow, players must remember to avoid running into animated challenges, creatures, and even their own tail. With increasingly difficult scrolling levels—the main objective of 'Baby Snakes' is to eat all the pellets and powers-ups to achieve a high score. With seamless integration of educational puzzle challenges in both math and spelling, Baby Snakes Learning is a fun way to play games and learn at the same time!
"As the creator of 'Snake Mayhem', I always wanted to produce a more robust, animated adventure game—updated to take full use of today's powerful mobile casual gaming technology," said Eric Prince, founder of Fundar Games and executive producer for Baby Snakes Learning (LE). "We're ecstatic to be able to offer our fans this classic re-birth of 'Snake' and 'Snake Mayhem' with 'Baby Snakes Learning (LE)', updated to match the original vision of our 'Snakes' games, but with a whole new cast of super cute and loveable baby snake characters and educational challenges designed for ages 4 and up," said Prince.
Baby Snakes Learning (LE) Synopsis
'Baby Snakes LE ' provides four different (Tougher, Slower, Faster, More Power) Baby Snakes to choose from. Players are challenged to navigate their Baby Snakes through increasingly difficult story-based levels. Baby Snakes must avoid animated obstacles, walls, and creatures, while solving both spelling and math educational puzzle challenges. Baby Snakes compete for high scores by eating pellets and power-ups, and solving the spelling and math challenges.
For Press
Screen shots, package images, and logos are available on the 'Baby Snakes' PRESS page,
http://s1309.beta.photobucket.com/user/FundarGames/library/.
Facebook
https://www.facebook.com/baby.snakes.mobile
About Fundar
Established in 2010, Fundar Games produces interactive casual video games for smart phones and various mobile devices to audiences worldwide. With a business focus on developing and publishing casual, educational, adventure, and puzzle mobile portable games, Fundar seeks out and works with global game publishing business partners. The company proudly differentiates itself by offering fun, original character-based, wholly-owned and funded intellectual property (IP) titles. Learn more about Fundar and partnership opportunities at fundar.dk.
© 2013 Fundar, Copenhagen Denmark.