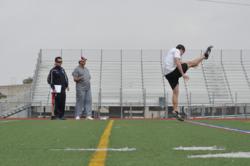 I am very eager for this year's Pro Camp at Florida Atlantic University. This is a first class facility that will allow us to effective coach and evaluate specialists that have the dream of playing in the NFL. Michael Husted
San Diego, CA (PRWEB) March 04, 2013
As the 2013 football season starts to ramp up, retired NFL kicker Michael Husted is making final preparations for the 2013 Husted Kicking Pro Camp to be held in Boca Raton, FL, from March 9-14, 2013.
"I am very eager for this year's Pro Camp at Florida Atlantic University," says kicking coach Husted. "This is a first class facility that will allow us to effective coach and evaluate specialists that have the dream of playing in the NFL."
Go here for more information about the Husted Kicking Pro Camp.
Husted, who kicked in the NFL for 9 years, says each year, the talent competing at the Pro Camp, just keeps getting better.
"We have a solid group of kickers, punters and long snappers, who we feel are NFL prospects, attending the camp," says Husted. "With this being our 10th year running the Pro Camp, we believe that this year's talent pool will be the strongest yet."
Husted started the camp with retired NFL punter Louie Aguiar. However Aguiar has recently been hired as an Assistant Special Teams Coach with the New York Jets and will not be part of this years' camp.
"It will be different this year with Louie Aguiar not coaching at our camp," says Husted. "However, with his new job as the New York Jets Special Teams Assistant Coach, our Pro Camp coaching staff is very happy for Louie and we wish him all the best in New York."
This year's Husted Kicking Pro Camp coaching staff includes (along with Husted) former NFL punter Craig Hentrich, former NFL kicker Mike Hollis, former NFL long snapper Mitch Palmer, former NFL special teams coach Mike Stock, and former NFL punter Dave Brader.
Husted says the Husted Kicking Pro Camp is the place for those free agent kicking specialists, not invited to the NFL Combine, to be seen by NFL scouts and pro staff. He says it is also provides an opportunity for those kicking specialists still in college, the chance to receive instruction and guidance from some of the best coaches in the nation.
"At the pro level, our event serves as an official alternate NFL combine for those who were not invited to the NFL's combine in Indianapolis," says Husted. "For those still in college, the first part of our camp allows kickers to receive professional instruction from athletes who have played in the NFL as well as coached hundreds of players."
Husted says the camp is specifically designed to help young kickers get their shot at the pro level.
"This Pro Camp has grown to be the most comprehensive pro camp out there for kickers, punters, long snappers and special team players," says Husted. "Not only do we provide a great platform for exposure to NFL, CFL and UFL teams, but we also have actual playing experience that we share with the athletes that you can't find during instruction or video review."
And NFL coaches confirm what Husted says about the Husted Kicking Pro Camp.
Scott Cohen Assistant GM of the NY Jets says "Going to the Husted Kicking Pro Camp is a must stop for every NFL team to evaluate the best punters, kickers and long snappers available. They run their camp with efficiency, professionalism and they take pride in the product they are presenting to NFL special teams' coaches and pro scouts."
Go here for more information about kicking coach Michael Husted.