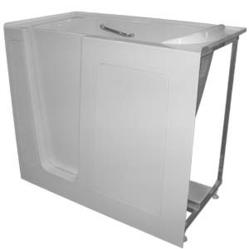 For this sale we'll be offering some of the highest quality walk in bathtubs and roll in showers for the best prices nationally!
Denver, CO (PRWEB) March 04, 2013
Aging Safely announces a March Madness Sale on walk in bathtubs and roll in shower products for seniors. The company will be offering senior bathtubs that come with warm air hydrotherapy, safety grab bars and built in seats at deep discounted prices.
The elderly are looking for unique resources on aging in place and ways to make their bathrooms safer and more conducive to safe bathing. The benefits of hydrotherapy and walk in bathtubs extend beyond senior citizens. These unique appliances are also appealing to those with disabilities or mobility limitations despite age.
Aging Safely offers senior bathtubs that come with specialized features which can provide bathers with additional confidence when taking a bath such as; thermal mixing valves that can control temperature, built in grab bars, anti slip flooring and built in contoured seats to make exiting easier.
According to Aging Safely, they will also be offering overstock models of walk in bathtubs and roll in shower stalls at additional savings to customers. Shoppers that are looking for a bargain on senior bathtubs will be able to select from close-out models and overstock hydrotherapy tubs that are brand new with lifetime warranties.
The company will also be publishing special discount codes on social media sites, whereas shoppers will be able to qualify on additional savings on walk in bathtubs and roll in shower systems. Aging Safely also offers shipping at no cost to the lower 48 states on all senior bathtubs, handicap showers and safety grab bars.
Customers in wheelchairs may be considering a roll in shower with a built in seat for safety concerns. This March Madness Sale will extend to handicap showers and wheelchair accessible showers as well, offering shoppers a chance to get these specialty products for well below regular retail prices.
Senior bathtubs and roll in shower products can provide independence, security and peace of mind for seniors and those who have fear of falling in the bathtub. Bathrooms are one of the most accident prone rooms in the home and when seniors are looking at aging in place technologies, typically the bathroom is a room that's modified for safety.
Aging Safely offers customers no obligation consultations on selecting the proper walk in tub, roll in shower or safety grab bar product. The company offers numerous sizes and options for walk in bathtubs and handicap showers, so it is essential that shoppers get the bathroom safety product that is just right for them and their unique needs. Senior bathtubs can also come with numerous accessory options such as hydrotherapy, grab bar, chromatherapy or aromatherapy; therefore selecting the proper appliance can require some planning and evaluating.
Contact Information:
Zach Wennstedt
info(at)agingsafelybaths(dot)com
1-888-779-BATH(2284)