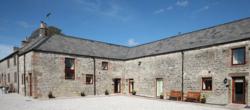 The cottages are directly positioned on the High Peak Trail
Peak District, UK (PRWEB UK) 4 March 2013
With the High Peak Trail direct from the doorstep, it's not surprising Croft Farm Cottages situated in the Southern Peak District get their fair share of holidaymakers knocking on their doors during the summer months. But Spring time is often overlooked, says Judith Barker, proud owner of the renovated cottages, and it's a time of year just as beautiful.
Transforming the once run down barns in a glorious position in the Peak District, into stunning new holiday homes, was the dedication and hard work of all her family says Judith. Croft Farm Holidays are a family firm who have dedicated blood, sweat and tears, renovating beautiful barns with an elevated and envious position right on the High Peak Trail. Croft Farm saw instant success in their first season 2012 and with bookings for the summer flooding in; they hope this year will be a bumper season for them too.
'The cottages are directly positioned on the High Peak Trail with their own access, enabling our holidaymakers to either walk or cycle directly from the cottages and to leave their car behind,' explains Judith. 'We have secure cycle storage and a wash area for muddy boots.'
The High Peak Trail is a 17 mile track for cyclists and horse riders and of course those who love to walk. Following the line of the former Cromford and High Peak Railway, the route takes in the stunning scenery of Derbyshire, between Middleton top and Parsley Hay.
'There aren't that many holiday homes who are lucky enough to have access straight from their door but our cottages are just a few steps away,' says Judith. 'If you haven't got your own bike, there's cycle hire from two junctions on the trail.'
The elevated nature of the trail always guarantees a spectacular view in any direction and its famous for being not only an excellent traffic free route, but one rich in wildlife with an abundance of wildflowers which looks stunning in the spring.
'We have some great offers this month from weekends just for two in "The Coach House" for £225.00 or Monday to Friday at £240.00.' Judith goes on to say, 'Also, just for this month of March, we also have an amazing break away deal to enjoy the spring weather with a massive 25% discount off all rates exclusive of the special deals.'
The beautiful barn holiday homes in delectable Derbyshire launch the sizzling special offers for this first month of spring, to chase away the winter blues.
View the latest special offers at http://www.croftfarmpeakdistrictholidays.co.uk and take advantage of a terrific time away in the Southern Peak District this Spring.
This article was written by http://www.peakdistrictonline.co.uk, the UK's largest holiday accommodation directory for the Peak District.