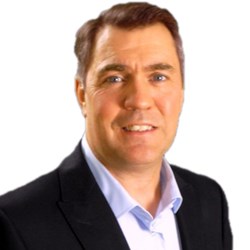 Most talk about their products and services, and hope that by playing the numbers game they will
find some prospects that are interested. That's why most traditional cold calling techniques no longer work
(PRWEB UK) 5 March 2013
Companies and salespeople can improve their sales prospecting results using a simple sales
technique outlined in Mark Boardman's recently published article on business website
FindtheEdge.co.uk.
The article sees Boardman – who's book The Cold Calling Secret is currently number one in Amazon's
telemarketing category – explain how focussing on a particular type of prospect yields much better
results than playing the ''numbers game''.
He highlights the importance of understanding how businesspeople think and specifically how they
BUY:
"Like any businessperson, I am keen to understand if there is a way of working that is more efficient
than the way I work now.
"If that way is being used by a company I know of, perhaps a local company, or more particularly,
a company in my industry, I am curious to know. So if I get approached by salespeople who can
reference such companies, ones that I am ''familiar'' with, I am more inclined to listen. I call this
sales approach the ''familiarity'' sales technique.
"It is a sales technique that is rarely used by salespeople or companies when they market and sell."
He continues.
"Most talk about their products and services, and hope that by playing the numbers game they will
find some prospects that are interested. That's why most mail shot campaigns return a paltry 0.5%
return, and it's why traditional cold calling techniques no longer work."
He then goes on to explain more about the technique and in particular, how to source the right kind
of prospects to use the sales technique with.
Kenny Goodman, founder of Find the Edge said: "Mark is a respected businessman, author and sales
expert, who knows exactly what he's talking about.
"It's great to get his insight as an expert panellist on Find the Edge. Every salesperson should think
about how the 'familiarity' sales technique can help boost the number of prospects in their sales
pipeline."
Mark Boardman has worked in sales for 23 years, and is the founder of Fast Forward Sales Training,
where he teaches his clients the very latest innovative and ground-breaking sales techniques. To find
out more about him, visit: http://www.findtheedge.co.uk/expert-panelist/mark-boardman.
The full interview can be read at: http://www.findtheedge.co.uk/sales-marketing/sales/a-rare-
sales-technique-used-by-very-few-salespeople-2. Find the Edge is a new website, designed to help
business leaders attain a competitive edge over their competitors.