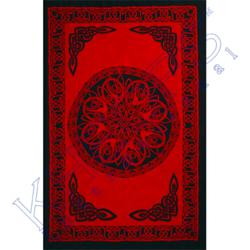 March is the month when people prepare for spring vacations and quick escapes to warmer shores. One of the most popular items people bring, or buy on vacation, is a sarong. This makes March the perfect time to offer retailers discounts on our line
Colebrook, NH (PRWEB) March 05, 2013
"March is the month when people prepare for spring break vacations and quick escapes to warmer shores. One of the most popular items people bring, or buy on vacation, is a sarong. This makes March the perfect time to offer retailers discounts on our line of rayon sarongs," says Kheops International Marketing & Advertising Manager, Mylene Miron.
Sarongs are extremely fashionable. They can be wrapped around the waist to make a comfortable, casual long or short skirt. Simple tying techniques can transform a lovely sarong into a halter, tube or toga dress. Sarongs make great head scarves, turbans and shawls.
Besides being fashionable, sarongs are also very versatile. They can be used as a beach blanket, towel, sheet or curtain. Hang a sarong on the wall as a tapestry or use it as a table cloth. The possible uses of a sarong are endless.
Travelers love sarongs because they are light weight and easy to clean; simply hand wash and air dry. Sarongs travel well, look great, feel fantastic, and are convenient and fashionable. That's what makes them a summer best seller.
Save all month long on Kheops Internationals exotic line of rayon sarongs, and wrap yourself in a piece of paradise today.
Kheops International, one of the world's foremost wholesale suppliers of metaphysical, new age and spiritual gifts, provides an extensive line of products for one-stop shopping, (KheopsInternational.com).
About KheopsInternational.com
Kheops International prides itself on being one of the best wholesale suppliers of quality metaphysical products. They search the globe to bring meaningful, gifts to your store. Kheops makes it a priority to steadily increase its supply of products that have been manufactured using environmentally-sound methods. Kheops purchasing agents work diligently with suppliers to improve product quality, maintain competitive pricing and to ensure that the manufacturing processes are safe. These humanitarian efforts help to ensure a positive energy in all of their meaningful gifts.