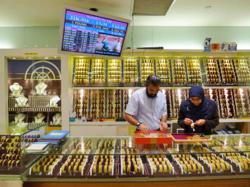 Seen an increasing trend of travelers choosing budget accommodation and airlines for greater savings that they can put into gold shopping instead.
Singapore (PRWEB) March 05, 2013
Due to the lowest prices of gold in seven months, savvy travelers to Singapore have been planning their trips with purchasing gold jewelry and bullion in mind, which is tax-free in the island state. BudgetHotels.sg has seen an increasing trend of travelers choosing budget accommodation and airlines for greater savings that they can put into gold shopping instead.
Buoyed by the recovery of the U.S. economy, gold prices have dropped in recent months to $1,572 an ounce, with analysts like Goldman Sachs now forecasting prices to remain at $1,600 per ounce for 2013. This has sparked off strong interest among travelers, especially Asians, who have long believed in gold investment as a hedge against inflation, and who see the price drop as an opportunity to stock up.
"Since the start of the year, I've received dozens of inquiries from travelers wanting to know where they can buy gold in Singapore, and which budget hotels offer the proximity and security for their needs," said Danny Lee of BudgetHotels.sg, an online hotel booking portal catering specially to budget travelers. Lee noted that new bookings for budget hotels near Mustafa Center, one of the largest gold marts in Singapore, have shot up.
Singapore has long been a popular destination for gold jewelry shopping amongst international travelers because purchases qualify for a Goods & Services Tax refund, making them tax-free. But in October 2012, Singapore announced that all investment-grade gold bullion would also be exempted from tax, making it a contender on the world trading market for precious metals.
While the idea of budget travelers spending large amounts of money may seem contradictory at first, it is very much in keeping with the mentality of the Asian traveler. According to travel market research firm PhoCusWright, travelers in Asia-Pacific will spend at least S$431 billion (US$350 billion) on travel in 2013, of which 14 percent is solely for online bookings in South-East Asia. At Singapore's Changi Airport, budget airlines now count for one quarter of all passenger traffic, compared to 5.6 per cent in 2005. What they show is that while Asian travelers can have deep pockets, they prefer deals.
Based on his interactions with travelers using his portal, Danny Lee explains further. "Many budget travelers can actually afford luxury hotels, but they want the best bang for their buck. They know what's worth their money. Instead of bringing home cheap souvenirs, they give their family members gold jewelry and coins, which will grow in value over time."
In response to demand from its clientele, BudgetHotels.sg has added more content to its website such as tips on buying gold jewelry at Mustafa Singapore. For more information, visit http://www.budgethotels.sg.
About BudgetHotels.sg
Created specially to cater to budget travelers looking for cheap hotels in Singapore, BudgetHotels.sg is a portal that's the first-of-its-kind in Singapore and Asia. Not only does the site bring together a compilation of affordable hotels in Singapore with key information like the location of nearby MRT train stations, food outlets and shopping options, it also offers sightseeing suggestions and tips tailored for budget business and leisure travelers.