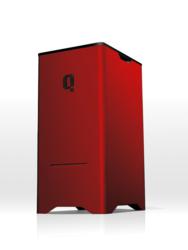 We are ready for production and will have this amazing motherboard quickly in their hands.
Los Angeles, California (PRWEB) March 04, 2013
Quo Computer is the first company to design and develop a product from the ground up to run any operating system natively. The Z77MX-QUO-AOS motherboard dubbed projectQ, has specific components that allow easy installation and upgrades of any mainstream operating system.
The board is offered as a pre-order on the Kickstarter platform for only 28 days. With a starting price of $219, including free shipping in the United States, these boards will sell fast. There are various other pledges, including an amazing Red Aluminum Ultimate Special Edition, which will be engraved with the purchasers name and the serial number of the Z77MX-QUO-AOS motherboard.
"Most motherboard manufacturers only focus on Windows. We want to change that," said Rashatha De Silva lead on projectQ. The company's vision is to open the market, so that an individual customer can choose what they want to run. Going along with Quo's company motto, their website proudly displays "Your Computer. Your Configuration. Your Choice."
According to Mr. De Silva, "Quo is very excited to be on Kickstarter and to break ground with the projectQ product. The success of this launch will allow us to develop other products such as graphic cards, Wi-Fi/Bluetooth add-ons and a miniITX board, items that the consumers want and need."
Quo has been pushing the envelope with systems that could run any OS since 2009. The Z77MX-QUO-AOS takes that to another level by offering carefully chosen components that were researched and tested for over a year. The motherboard will be based on the Intel Z77 platform.
"We listened to Apple, Windows and Linux enthusiast, they all want open systems that have expansion for the future," said Rashantha. Quo systems start at $750, but allow the user to configure them to meet their needs. Imagine a system with dual graphic cards and a four port lan, bonded for extreme file transfer speeds. "Thinking modular allows customers to start with building blocks and add or even change when they choose to" added Rashantha.
Kickstarter is a great platform to launch technology products. It empowers people who pledge to push innovation. "We are ready for production and will have this amazing motherboard quickly in their hands," concluded Rashantha De Silva who is also the founder of the company.
About Quo Computer
Quo is synonymous with any operating system. They focus on the customer's needs to build uniquely configured computers, whether it is simply for surfing the web or workstation that create amazing special effects.
The company is based near Los Angles, California. For more information, please visit http://quocomputer.com.