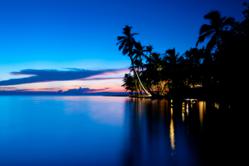 The Moveable Feast is regarded as the crown jewel of Belize honeymoon vacation packages.
(PRWEB) March 04, 2013
Billed as one of the world's most extraordinary honeymoons, the Moveable Feast of Belize , which takes couples from ancient Maya temples and pristine rainforests to the Caribbean Sea and a private island on the Belize Great Barrier Reef, just became more affordable thanks to a new June discount, The Lodge at Chaa Creek's adventure romance specialist announced today.
Denise Duran said that the Moveable Feast is regarded as the crown jewel of Belize honeymoon vacation packages, and marks the first time that three luxury eco resorts have worked together to create one all-inclusive Belize honeymoon package.
And now, in another first, all three resorts, The Lodge at Chaa Creek, Chabil Mar Villas and Hatchet Caye have all agreed to extend a 10% across-the-board discount off the entire all-inclusive package for the month of June, she said.
"It's rare that you get three of Belize's most luxurious eco resorts to work this closely together to create something like the Moveable Feast, and rarer still that three top-end places would collaborate to offer such an impressive discount on what is already such a great deal," Ms Duran said.
The Moveable Feast is an eight night/nine day all-inclusive honeymoon package that allows couples to experience Belize's most renowned natural wonders, from the beautiful rainforests and jungle rivers flanking the remnants of ancient Maya cities to lovely Caribbean coastal villages and the stunning remote tiny islands dotting the World Heritage-listed Belize Great Barrier Reef.
"We were all very proud of the Moveable Feast when we first designed, negotiated and then delivered it," Ms Duran explained. "Nobody had ever done something like this before, and it took a bit of work and logistical planning to pack so much in, and to make sure it's a seamless, relaxing experience. Now we can confidently guarantee it's an experience our honeymooners will cherish and remember forever."
"It's also the most affordable way to do something like this. Between Chaa Creek and our partners at Chabil Mar and Hatchet Caye, we have a very extensive network of colleagues that allows us to offer an all-inclusive package deal that, if each component was paid for separately, would add up to much, much more.
"With the Moveable Feast, from the moment we pick you up at Belize's international airport until we drop you back off nine days later, absolutely everything is taken care of. Luxury accommodation at three of Belize's most highly regarded resorts, all meals from three excellent kitchens, all transfers and even all staff gratuities and government taxes are included. Except for alcoholic drinks outside of the complimentary wine and champagne listed on the package, there is absolutely nothing else to pay for.
"And in addition to the savings, honeymooners will enjoy the most relaxed, efficient transfers between each resort and their special locations. There's no other way to see so much of Belize so easily, luxuriously and inexpensively. By leaving everything to Belize's three most trusted resorts, couples can spend their entire vacation completely focussed on each other, which, after all, is the whole point of a luxury honeymoon," Ms Duran said.
The Lodge at Chaa Creek is set within a 365 acre private nature reserve and offers a pristine rainforest experience with a range of jungle activities and relaxation amid casual luxury. Chabil Mar sits on Belize's beautiful Caribbean coast not far from the picturesque little fishing village of Placencia while Hatchet Caye on the Belize Great Barrier Reef borders a world famous marine reserve surrounded by an abundance of natural beauty teeming with aquatic life. Ms Duran said that the combination of such diverse experiences in one honeymoon holiday could only happen in Belize.
"Where else could you awake to the sound of toucans and parrots in the morning rainforest, explore Maya temples, have a jungle horseback ride or a spa treatment at the foothills of the Maya mountains, and that afternoon be snorkelling in the crystal clear waters of the Caribbean without once rushing around? It's something that's truly unique to Belize," Ms Duran said, and advised would-be honeymooners to check the Chaa Creek website to learn more about the Moveable Feast and other adventure romance options.
"It really is an incredible combination of exotic adventure and casual luxury, and now, with 10% off the entire package for the month of June, it's actually very affordable for couples to share something so special together," Ms Duran said, "I can't think of a better way for a couple to celebrate their love together," she added.